More than 130 delegates focus on asset performance in Gladstone
Published on 10 May, 2012
Media Contact: Details or interviews are available via or 07 4970 7602.
For Immediate Release
Gladstone has hosted its third CAMM event in three years, helping businesses, industries and organisations extract the maximum performance and value from their assets.
The Conference on Asset and Maintenance Management 2012 was once again hosted at CQUniversity Gladstone on May 4, after lead-up workshops on 'Asset Management' on May 2 and 'Reliability' on May 3.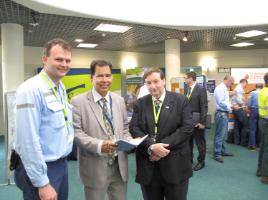 Conference speakers included Ben Hayden, Glenn Schumacher and Professor Gopinath Chattopadhyay
Click here to View/Download full-sized Image
Over 130 delegates came from as far afield as Singapore, Melbourne, Sydney, Newcastle, Brisbane, Gympie, Mt Isa, Moranbah, Rockhampton, Mackay, Gladstone, Biloela and many other places around central and north Queensland.
Delegates represented power generation, railways, process industries, regional council, mining, ports, consulting and many other industries, professional bodies including Asset Management Council, Engineers Australia and Australian Society of Operations Research, and a range of universities, as well as government and wider community representatives.
Conference Chair Professor Gopinath Chattopadhyay says there are numerous examples every year of outstanding achievement by academics, researchers, consultants, students and sponsoring industries in the best practices, research and application in related disciplines.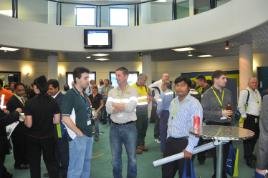 Networking is a feature of the conference
Click here to View/Download full-sized Image
"These examples are of such high value that it is to the advantage of industry and universities to make the results available to a wider community," he says.
Conference speakers for 2012 included Glenn Schumacher and Ben Hayden from NRG Gladstone Power Station (Improving the bottom-line using Leadership in Asset Management) and John Abbott from Fluor Global Services (Improving shareholder value through Asset Management).
Conference Chair Professor Chattopadhyay and CQUniversity Adjunct Professional Fellow Malcolm Leinster spoke on E's in Asset Management.
Larry Woodland from AssetFuture Pty Ltd spoke on Whole of Life Asset Planning, Raja Ratnam from Aurecon spoke on Key Success Factors, and Mark Mueller, who has recently directed asset management (global) for the AES Corporation, spoke on the Global Trend in AM Standard.
Andrew Gibson from Rockhampton Airport spoke on The Change Journey for Introducing Asset Management, Stephen Broad from Downer EDI spoke on Hydrocarbon Infrastructure, and Michael Birch from QCLNG spoke on Gas Plant Asset Management.
ENDS