CQUniversity welcomes crucial State Government decision on Dual-Sector
Published on 10 Aug, 2011
Media Contact: Chris Veraa: 0419 392 303, OR Marc Barnbaum: 0409 196 039,
For Immediate Release
Central Queensland's push for a dual-sector university has moved one step closer following a crucial decision announced by the State Government this week (Aug 11)...
The proposed amalgamation of CQUniversity and the Central Queensland Institute of TAFE (CQIT) has been given the green light to proceed, with the University ready to begin merger discussions with the Government.

Premier Anna Bligh is flanked by Vice-Chancellor Scott Bowman and CQIT Acting Director Kirsti Kee
Click here to View/Download full-sized Image
LINK to What our leaders have said about the merger
LINK to A new era for education and training in Central Queensland
Premier Bligh made the announcement while visiting CQUniversity's Rockhampton campus today.
CQUniversity Vice-Chancellor and President Scott Bowman said, "We have passed an important milestone on our journey to becoming Queensland's first dual-sector university, which will allow us to respond more dynamically and effectively to the region's unique and evolving skills needs.
"This latest development should be welcome news not just for staff and students of CQIT and CQUniversity, but for every employer, every business and every industry in the region.
"A dual-sector university will deliver a seamless stream of both academic and vocational learning pathways that can finally begin working together more strategically, rather than competing or working in isolation.
"It will also offer exciting career opportunities for staff both within CQIT and CQUniversity, including the opportunity to learn from one another and build a stronger institution together - which I'm really excited about.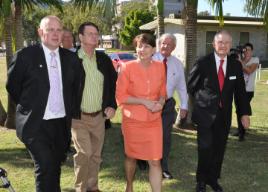 Striding into the future L-R Professor Scott Bowman, Member for Rockhampton Robert Schwarten, Premier Anna Bligh, Member for Keppel Paul Hoolihan and Chancellor Rennie Fritschy
Click here to View/Download full-sized Image
"Industry was quick to realise the benefits of a dual-sector university - and they will be among the big winners - but this model will also have an enormous impact on all the other skills and services that keep our communities strong, healthy and vibrant.
"Our University Council will maintain a keen interest in the detail of the merger arrangements, especially in terms of getting an ideal outcome for CQIT and CQUniversity staff and students.
"There is still some way to go in this process, however the Government's approval to proceed with the merger represents a very positive step forward. I am delighted the Government has recognised the merits of our proposal to merge with CQIT, and I thank the community for their overwhelming support of the plan to date," Professor Bowman said.
Chairman of Capricorn Enterprise, Grant Cassidy, said it was exciting to see CQUniversity's push to become a dual-sector University move past this latest crucial milestone.
"I am delighted that CQUniversity can now begin the serious business of turning their proposal into a reality," Mr Cassidy said.
"All along we have found the level of support among industry and business for a dual-sector university to be quite remarkable. The benefits to employers and to the region are quite obvious, and I look forward to seeing Central Queensland lead the state in revolutionising post-school education through the dual-sector model."
QUICK FACTS
CQIT is Central Queensland's leading provider of Vocational Education and Training, with campuses located at Emerald, Barcaldine, Blackwater, Clermont, Gladstone, Biloela, Mackay, Moranbah, Yeppoon and Rockhampton. CQIT delivered to 19,366 students across its campuses in the 2010-11 financial year and has 490 staff.
CQUniversity is one of Australia's most engaged and fastest growing Universities, with 10 campuses around Australia including Mackay, Rockhampton, Gladstone and Emerald in Central Queensland. CQUniversity reported 19,000 students nationally in its 2010 Annual Report and has around 1200 staff.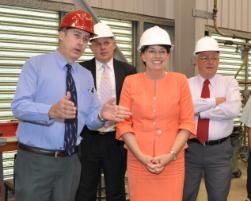 Professor Colin Cole describes the latest railway research projects during the Premier's visit
Click here to View/Download full-sized Image
ENDS