CQUni turns tourism up a degree
Published on 28 Jul, 2011
Media Contact: Media Contact: 3224 2002
For Immediate Release
CQUniversity's announcement that it will offer two new tourism degrees in the Mackay/Whitsunday region has been welcomed by Minister for Tourism, Manufacturing and Small Business Jan Jarratt.
Ms Jarratt said providing access to high quality tertiary studies in tourism was key to maintaining Queensland's competitive edge in the global market.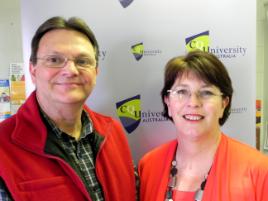 Tourism Minister Jan Jarratt and Tourism lecturer Steve Noakes discuss the new programs
Click here to View/Download full-sized Image
"It is fantastic to see regional institutions like CQUni offering two new tourism qualifications; the Bachelor of Tourism and Bachelor of Business (Tourism)," Ms Jarratt said.
"By enabling people to train in the regions they love and know, we retain the local talent most capable of enhancing and selling the experiences on offer around Queensland.
"It's critical that we offer world-class training and provide career paths in tourism to ensure we have the professionals needed to ensure our industry continually evolves, grows and is able to respond to market changes and challenges.
"It will give students from the Whitsundays and Mackay better opportunities in a variety of careers in the tourism industry - whether in accommodation, tourist attractions, transport, hospitality, events or tourism policy and planning."
The new CQUniversity tourism degree programs offer a diverse range of courses to develop a broad range of skills relating to the modern business environment.
The three-year degrees will be delivered by experienced international academics and industry practitioners, covering topics including Tourism Policy & Planning, Resort & Hotel Management, Nature-Based Tourism and Events & Leisure Management.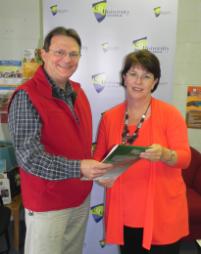 Tourism Minister Jan Jarratt and Tourism lecturer Steve Noakes discuss the new programs
Click here to View/Download full-sized Image
The two leading CQUniversity tourism academics are members of the 'Global Panel of Tourism Experts' appointed by the United Nations World Tourism Organisation to give strategic policy advice on international tourism issues. CQUniversity is actively engaged with the Education & Training program of UNWTO.
"At CQUniversity we engage with global initiatives dedicated to promoting sustainable tourism practices around the world and bring that learning into the courses we deliver to our students," said Steve Noakes, Senior Lecturer in Tourism based at the Mackay Campus of CQUniversity and Board member of the Washington DC-based Global Sustainable Tourism Council.
"CQUni is actively engaged in contributing to industry education about universal principles that define sustainable tourism and generate markets for tourism products adopting sustainable approaches to their businesses.
"To ensure students receive industry relevant education, Work Integrated Learning will be a key feature of our degrees with a range of courses including industry-based learning components. Students will also be encouraged to undertake work placements during the term of their study.
"These degrees will use globally relevant tourism curriculum to ensure students have the skills and knowledge to succeed in their chosen tourism career outcome locally or internationally."
For more information visit http://www.cqu.edu.au/
ENDS