New research gives homework an 'F'
Published on 26 Oct, 2012
Media Contact: To arrange interview please contact Mike Horsley 0427 035 912
For Immediate Release
The hours young Australian students spend studying at home could be doing them more harm than good, according to a new book by two of the nation's most esteemed education academics.
Reforming Homework: Practices, Learning and Policies - co-authored by Professors Mike Horsley and Richard Walker from CQUniversity and Sydney University - has weighed into a century-old debate about whether homework in itself is actually beneficial for kids.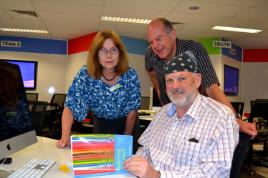 CQUni Deputy VC Professor Hilary Winchester with 'Reforming Homework' authors Prof Mike Horsley of CQUni (front) and Prof Richard Walker of UniSyd (rear)
Click here to View/Download full-sized Image
Speaking from the book's launch at CQUniversity's Noosa Campus this week, Professor Horsley said the way many primary kids were currently doing homework may not contribute to their learning.
"The value and effectiveness of homework depends on its quality," Professor Horsley said.
"Students benefit from homework that is well prepared, interesting and challenging, but not overtaxing.
"On the other hand, homework that is repetitive, boring, too easy or difficult for students, does not contribute to new learning.
"High-quality tasks encourage students to invest effort in their homework, which leads to improved outcomes, whereas low-quality homework has adverse effects on motivation, effort and achievements."
Professor Horsley, who heads both Noosa Campus and the highly-regarded Learning and Teaching Education Research Centre (LTERC), said the book was aimed at helping teachers, students, parents and policy makers get the most out of homework and to start a conversation about reforming homework practices.
"We're not saying homework should be abolished, just reformed and refined," Professor Horsley said.
"The book outlines conditions under which homework can be effective and help kids learn, and the importance of support and guidance from parents and teachers.
"For example, we believe teachers need to develop a homework curriculum, just as they do for work that is completed at school."
Among the more surprising facts in the book is that research shows students who do more homework actually perform worse in standardised tests.
But for all those Year 12 students thinking they can skate through their exams with no extra study, Professor Horsley had some unwelcome news.
"Homework has been found to improve academic achievement in the senior years of high school (years 10 to 12), where it benefits about 45 per cent of students," Professor Horsley said.
"But research shows it won't improve the achievement of children in the early years of primary school, and that it has negligible benefits in the higher grades of primary school and very limited benefits in junior high school."
ENDS