Things get 'steamy' as gap closes between adult and children's fiction
Published on 02 Jul, 2013
Media Contact: Via 0432 416 316 or
For Immediate Release
Younger protagonists and settings appealing to the teen market are closing the gap between adult and children's fiction...
That's according to CQUniversity Masters researcher Denise Beckton, who presented a paper at the Popular Culture Association of Australia and Zealand conference in Brisbane recently (June 24-26).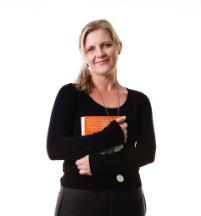 Masters researcher Denise Beckton
Click here to View/Download full-sized Image
Ms Beckton's paper - Mum, what's a Blow Queen?: Tracking the emergence of the Steamies Genre - tracks how the emerging category of New Adult fiction is changing the way books have traditionally been categorised by age.
"This new and increasingly popular category and the sexualised sub-genre within it, known as 'Steamies', presents possible implications to many areas of society," she says.
"The New Adult classification is aimed at the 18-25 year old market; however, the impact of an increasing adult readership within Young Adult fiction, makes for a blurring of lines when it comes to appropriateness of reading material aimed at a younger target audience.
"Younger protagonists and settings appealing to the teen market are closing the gap. Additionally, market segmentation, consumer demand and an ambiguity between YA and NA fiction is fuelling contention around the issue."
Ms Beckton is based at CQUniversity's Noosa Campus under the supervision of Professor Donna Brien. She is writing a Young Adult/crossover novel and a related dissertation exploring the new sub-genres of fiction being read by, and written for, this market.
"General anxiety about levels of violence and sexuality in the media and its impression on young people has seen interest groups such as parents, teachers and the church voice concern about the content and impact of such forms as films, computer games and social media," she says.
"In these discussions, the novel has been historically shielded from censorship to some degree, and its consumption instead supported by campaigns to view the written word as an instrument of inspiration and positive cultural change.
"The fast-changing sub-genres within contemporary Young Adult (YA) fiction are, however, leading to a wide range of emerging themes and concepts that are, moreover, being read by an increasingly younger market."
Ms Beckton's conference paper analyses a successful and controversially themed popular novel - The Perks of Being a Wallflower by Stephen Chbosky.
"A case study of the emerging 'Steamies' genre (aimed at the recently established 'New Adult' market) will elucidate evidence of parallel indicators that have the potential to impact upon the YA field," she says.
"The implications of this discussion are relevant to a wide range of stakeholders in YA popular fiction: authors, publishers and their marketing departments: readers and their families; teachers, lecturers, librarians and curriculum designers; scholars of YA fiction, and others including researchers in the tertiary sector."
ENDS