CQUni lifts the lid on research in Gladstone
Published on 30 May, 2013
Media Contact: Interviews via Owen Nevin 4970 7324 or Chad Hewitt 0458 306 418
For Immediate Release
Anyone who has considered becoming a researcher and those who are curious about the breadth of current and potential research projects have a great opportunity coming up in Gladstone.
Everyone is invited to come along and help celebrate 35 years of CQUniversity Gladstone with a Research @ CQUniversity day on Wednesday, June 5, from 11:45 am until 6.30 pm.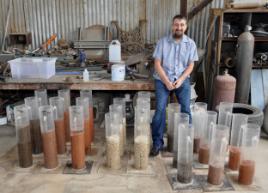 Wastewater researcher Ben Kele is on the agenda for the Gladstone event. He's pictured showing volcanic rocks used in filtration systems
Click here to View/Download full-sized ImageVisitors can find out more about CQUniversity's research capacity at Gladstone, the benefits of (and how to go about) engaging research, the capacity of research beyond Central Queensland and how to become a Research Higher Degree student.
Participants can hear more about CQUniversity's current research projects such as: Shiftworker Fatigue, Ecosystems, Gladstone Skilled Migration, Early Childhood Education, and Mechanisms to improve housing affordability in Gladstone.
For details on the presentation timetable and other features of the day, visit http://www.cqu.edu.au/research/event/ .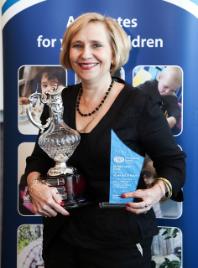 Award winning 'early childhood' researcher Dr Gillian Busch is also on the agenda for the Gladstone event
Click here to View/Download full-sized Image
ENDS