Who moves most? Search is on to find the most physically active transport workers in Queensland
Published on 05 Apr, 2013
Media Contact: For interviews please contact Dr Mitchell Duncan via email:
For Immediate Release
10,000 Steps Workplace and the Queensland Government's Workplaces for Wellness Initiative are teaming up to find the most physically active workplace in Queensland's transport industry.
The competition will pit participating workplaces against each other over a six-week challenge, during which transport workers will be urged to find opportunities to move more and to record the number of steps they take.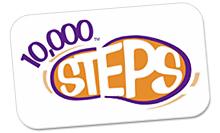 Click here to View/Download full-sized Image
There's little doubt that Queensland's transport industry contributes significantly to our lifestyle and economy. Whether by road, rail, sea or air, over long or short distances, we all rely on our transport workers.
The nature of the work for many in the industry means limited physical activity and long periods of sitting, and these factors can have negative effects on a worker's health. The aim of this competition is to encourage transport workers to improve their health and wellbeing by increasing their levels of physical activity, and for workplaces to experience the safety, financial and cultural benefits of a healthier workforce.
To find out more visit http://www.10000steps.org.au/ or phone 07 49 306 751
About the 10,000 Steps Workplace Challenge
The 10,000 Steps Workplace Challenge involves teams completing 'virtual' walking journeys. Some workplaces like to add some extra 'healthy' competition into their challenge, pitting branch against branch or department against department.
The distance walked is tracked using a 10,000 Steps pedometer, the 10,000 Steps website and Challenge Map.
The only cost is for the purchase of pedometers. A good quality pedometer is the key to making sure your steps are accurately recorded. Visit the website ( http://www.10000steps.org.au/ ) to find out where to purchase your pedometers and information on bulk order discounts. Participants will receive support at each stage of the challenge and will have access to some great resources via the 10,000 Steps website.
Competition details
The competition will be conducted over any six-week period between April 2 - June 14 this year. The competition will be open to all Queensland workplaces within the transport industry, including but not limited to; road, rail, maritime and aviation transport. Workers employed as part of the infrastructure and operational divisions as well as those who provide direct support to the transport industry are also encouraged to participate.
The winner of the competition will be the workplace that records the highest average steps per employee at the end of the six-week challenge. The key will be having as many employees as possible moving more each day. The winning workplace will not only receive bragging rights, but will be prominently featured in a high profile state-wide publication; on the 10,000 Steps website and social media platforms, and they will also receive a trophy for their efforts.
10,000 Steps Workplaces is a joint Australian, State and Territory Government initiative under the National Partnership Agreement on Preventive Health.
To find out more visit http://www.10000steps.org.au/ or phone 07 49 306 751
ENDS