Antarctic tourism 'best managed' says Adjunct Professor
Published on 14 Feb, 2013
Media Contact: Thomas Bauer Tel 07 40685888 or Steve Noakes Tel: 0418 774 295
For Immediate Release
After researching tourism in Antarctica for over two decades and visiting the continent 20 times to observe tourism operations, Dr Thomas Bauer, Adjunct Professor in Sustainable Tourism at CQUniversity, says many destinations could learn from the tourism management systems that have been developed for this pristine environment.
"Other destinations should take note of how well tourism in the south Polar region is managed and adopt the same stringent visitor conditions that apply to Antarctica to the management of their own destinations. This includes a compulsory briefing of visitors to sensitive sites prior to them being allowed to set foot at them," he said.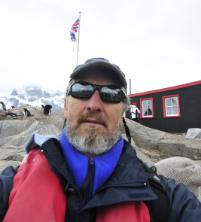 Prof Bauer at the former British Base A at Port Lockroy - now the most visited site in Antarctica with 15,000 tourists per season (Photo credit: Thomas Bauer).
Click here to View/Download full-sized Image
A Fellow of the Royal Geographical Society, London, Professor Bauer is a leading world authority on tourism in Antarctica.
Now on his way to Easter Island and the Galapagos Islands to observe how tourism operates in these locations, he has just completed his 36th crossing of the Drake Passage which links the Pacific and Atlantic Oceans.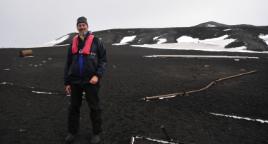 Prof Bauer at Deception Island, Antarctica, standing next to the former runway created and used by the Australian Hubert Wilkins from where he made the first powered flight in Antarctica (Photo credit: Thomas Bauer).
Click here to View/Download full-sized Image
"There is no significant land anywhere around the world at the latitudes of the Drake Passage," he explained, saying "this is highly relevant to the unimpeded flow of the Antarctic Circumpolar Current which carries massive volumes of ocean water in the order of 600 times the flow of the great Amazon River through the Passage and around Antarctica".
Drake Passage is named after the famous pirate 'approved' by the English to plunder Spanish possessions, sometimes illicit slave trader, Knighted by Queen Elizabeth 1, Member of the House of Commons, Sir Francis Drake who was the first Englishman to circumnavigate the world between 1577 and 1580.
'It wasn't until 500 years after the pioneering journey of this renowned seaman of the Elizabethan era that tourism became something and that both the industry and Antarctic authorities mutually recognised the importance of effective sustainable tourism management plans for this largely untouched part of our planet," said Professor Bauer who took 16 upmarket travellers from Singapore, Hong Kong and Beijing on a fly cruise to Antarctica in January this year.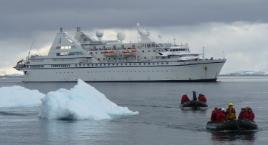 Expedition ship and zodiacs for tourists (Photo credit: Suzanne Noakes)
Click here to View/Download full-sized Image
"This current trip illustrates the interest for the destinations has moved from just western nations and now is increasingly of interest to the booming outbound Asian markets as well."
Steve Noakes, Head of the Tourism program at CQUniversity (based at Noosa campus) said: "Tourism is a legitimate activity in Antarctica, and it's important that the continued growth of the industry does not compromise the destination where peace, science and natural area conservation have been key attributes. All human activities, including tourism must be conducted in a manner that safeguards the Antarctic environment".
Topics such as sustainable tourism planning and policy in protected areas are included in within CQUniversity's degree course offerings in tourism.
As an Adjunct Professor at CQUniversity, Dr Bauer has freely made himself available to discuss such issues with interested students.
Links:
Tourism @ CQUniversity http://www.cqu.edu.au/study/what-can-i-study/new-programs/tourism-at-cquniversity
Drake Passage: National Oceanography Centre Southampton, University of Southampton, UK http://www.noc.soton.ac.uk/ooc/TRANSPORTS/DrakePassage.php
Sir Francis Drake - The Famous Voyage: The Circumnavigation of the World, 1577-1580 http://www.loc.gov/rr/rarebook/catalog/drake/drake-4-famousvoy.html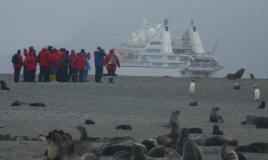 Expedition ship, penguins & tourists (Photo credit: Suzanne Noakes)
Click here to View/Download full-sized Image
ENDS