'He hits, she hits' seminar screened throughout Australia
Published on 03 Nov, 2011
Media Contact: 0415 082 733 or email
Embargoed Until:
Video-links will help extend the potential audience for a FREE seminar about 'experiences of domestic violence', to be presented by researcher and educator Dr Michael Flood* ... from 2.30pm-3.30pm on Friday, December 9.
This 'He hits, she hits' seminar assessing debates about whether domestic violence is 'gender-equal' is being hosted by the Queensland Centre for Domestic and Family Violence Research, based at CQUniversity Mackay.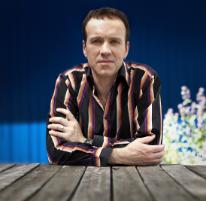 Dr Michael Flood
Click here to View/Download full-sized Image
Video-links will be available at sites in Thursday Island, Cairns, Townsville, Rockhampton, Bundaberg, Gladstone, Emerald, Noosa, Brisbane, the Gold Coast, Sydney and Melbourne.
Registration can be done online via http://www.noviolence.com.au/ with details via 07 4940 7875 or r.viljoen@cqu.edu.au
* Dr Michael Flood is a researcher and educator who has made a significant contribution to both scholarship on and community understanding of violence against women. He has published a wide variety of papers on violence against women, men's roles in prevention, and a range of other topics. Dr Flood also is a trainer, community educator and activist. He has worked with sporting organisations, community services, and governments, participated in international expert meetings, and contributed to social change campaigns.
ENDS