This Relay for Life team has 'squashed' in plenty of fundraising over past 10 years
Published on 07 Dec, 2011
Media Contact: Details via Kaye Kidd Phone 4934 8274 or 0409 268 147 or
Embargoed Until:
Congratulations to the Scottvale Park Squash Relay for Life team members, who are planning to attend the fundraising event in Rockhampton for their 10th consecutive year in May of 2012.
Team member Kaye Kidd has been along every step of the way and now has extra incentive, as her husband Trevor was diagnosed with renal cell carcinoma (kidney cancer) in February 2011.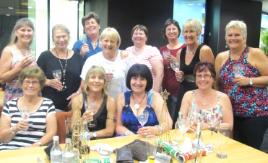 Scottvale Park Relay for Life team members celebrate and plan for the 2012 event. Rear - Kaye Kidd, Ingrid McLoughlin, Julianne Crawford, Lyndee Bollington, Sue Evans, Leslie Walker, Marg Wills, Paula Buchholz. Front - Jean Assay, Bernice Dei Rossi, Carole West, Denise Brown.
Click here to View/Download full-sized Image
You can register for Relay for Life, to be held at CQUniversity Rockhampton
on the May 19-20 weekend, by visiting http://www.relayforlife.org.au/ or phoning 4932 8610.
"Trevor had an operation to remove his kidney and was informed the prognosis was very good, but whilst on holidays during October in Victoria a pain in the hip indicated that something was not right," Kaye says.
"Trevor contacted his specialist in Brisbane and he requested a bone scan be ordered at the Geelong hospital. Results showed there were spots indicating cancer in the hips and spine areas. The specialist requested an immediate return to Brisbane for further testing with MRI. Results had indicated the cancer had returned and was located in the hip and lower section of the spine.
"The prognosis was bone cancer and radium was to commence immediately followed by chemotherapy in tablet form."
Kaye says her family is focusing on living life and enjoying every day, as "things like fishing, camping and family/friends are a very important factor".
She says life has changed in the Kidd household but only in terms of altering the meal planning, with certain foods not included in the meals.
"It is very interesting to learn of certain foods and drinks which you may or may not have that can hopefully assist in preventing the cancer from spreading to other organs of the body.
"It is extremely important for everyone to be aware of vital signs in their body, listen to your body and if something doesn't feel right contact your doctor."
Kaye says raising money for research in finding a cure for all types of cancer is very important, so that one day there will be very few people diagnosed with cancer.
Next year is looming as the 10th anniversary of the Relay For Life event held at CQUniversity Rockhampton Campus.
ENDS