CQUni welcomes 'wow factor' for Great Keppel research centre
Published on 04 Apr, 2012
Media Contact:
For Immediate Release
CQUniversity welcomes the 'wow factor' in a new artist's impression for the design of a Research Centre proposed as part of a resort redevelopment on Great Keppel Island, on the Southern Great Barrier Reef.
Vice-Chancellor Professor Scott Bowman says the University is looking forward to accessing world-class facilities on the island, east of the Capricorn Coast.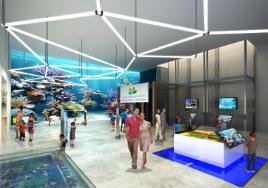 LINK for a larger image of this artist's impression
Click here to View/Download full-sized Image"The facility will become a focal point for our research efforts relevant to the Southern Great Barrier Reef," Professor Bowman says.
"We're keen to invest more resources to complement this initiative. The Great Keppel Island Research Centre could be a vital tool to inform management of the southern part of the Great Barrier Reef."
CQUniversity has agreed to conduct scientific projects at the Research Centre to be built by GKI Resort Pty Ltd as part of the new tourism resort on Great Keppel Island, which is undergoing a rigorous EIS process.
According to the Proponent, the Research Centre would conduct research programs, undertake conservation activities on the island and within the marine park, monitor coral communities and facilitate student and professional research activities.
Development Manager for GKI Resort Pty Ltd Anthony Aiossa says the company has been working extremely hard on the Environmental Impact Statement (EIS) for the GKI Revitalisation Plan for almost two years, which has involved the input of over 90 technical experts.
"A key part of the EIS process has been to look at ways in which a new tourism resort on Great Keppel Island can deliver real tangible benefits to the local community and the environment," Mr Aiossa said.
"We are very happy with being able to work with CQUniversity to deliver the Great Keppel Island Research Centre, which will provide a wonderful facility for the University and the local community within the Southern Great Barrier Reef."
Capricorn Enterprise CEO Mary Carroll said "it is wonderful to see CQUniversity working so closely with Tower Holdings to develop a world-class research facility on our magnificent Southern Great Barrier Reef.
"Tourism is so much more sophisticated now - visitors want to touch it, feel it, experience it, and a research centre on Great Keppel Island would certainly provide that."
ENDS