International cast debates typologies of domestic violence
Published on 22 Feb, 2013
Media Contact: To arrange interviews with the CDFVR Director and/or any of the presenters contact Lauren Pattie on (07) 4940 7834 before 11 am on Wednesday 20th February. Alternatively, call Heather Nancarrow on 0408 158 952.
For Immediate Release
Academics from the USA, Sydney and Melbourne have participated in a debate on different types of domestic violence at a public seminar in Brisbane (Feb 21).
The seminar was hosted by the Queensland Centre for Domestic and Family Violence Research (CDFVR), CQUniversity and was officially opened by Queensland Minister for Communities, Child Safety and Disability Services, Tracy Davis.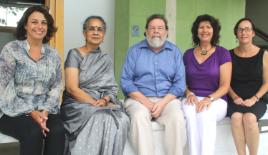 L-R at the typologies seminar are Dr Rae Kaspiew, Australian Institute for Family Studies, Dr Shamita Das Dasgupta, New York University Law School, Michael Johnson, Penn State University, Heather Nancarrow, Qld Centre for Domestic and Family Violence Research, and Dr Jane Wangman, University of Technology, Sydney
Click here to View/Download full-sized Image
The seminar was presented to an audience of 260 participants at the State Library of Queensland, Southbank (Auditorium 1, Level 2).
CDFVR Director Heather Nancarrow says there is much interest in and increasing debate about the idea of different types of intimate partner violence.
"Professor Michael Johnson first introduced his typology of intimate partner violence in 1995, distinguishing between 'intimate partner terrorism' and 'common couple violence'. In collaboration with other scholars, Professor Johnson has further developed his theory which now includes five types of violence. Others, including Dr Shamita Das Dasgupta have also developed typologies of violence and we are delighted that Professor Johnson and Dr Dasgupta have accepted our invitation to participate in the seminar," Ms Nancarrow said.
The seminar explored the theory and practice of typologies of intimate partner violence, including a critique and reflections on practice in the Australian context. These perspectives were presented by Dr Jane Wangmann of the University of Technology Sydney and Dr Rae Kaspiew of the Australian Institute of Family Studies.
"While the idea of typologies of violence seems to offer a plausible explanation for the decades-long debate on gender symmetry in intimate partner violence, the stakes are high if the typology is flawed or erroneously applied. For example, one type of violence labelled 'separation-instigated violence' is being applied in family law cases and is seen to be relatively harmless, although separation is known to be a risk factor for domestic homicide," Ms Nancarrow said.
"This seminar enabled policy makers and practitioners to hear first-hand about the promise of, and concerns surrounding typologies of violence."
ENDS