CQUniversity cements its presence in Cairns with new Distance Education Study Centre
Published on 26 Apr, 2012
Media Contact:
For Immediate Release
CQUniversity is no stranger to Cairns with around 350 students and thousands of graduates already in the region, but a new Distance Education Study Centre will finally give the University's Cairns-based students a place to call home...
With a campus footprint already stretching from Mackay to Melbourne, CQUniversity hopes the centre - to be located at 36 Florence Street in Cairns - will serve as a welcome support mechanism for its students in Far North Queensland.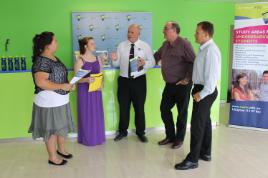 L-R students Cassandra Geeman, Demi Bailey, VC Scott Bowman and MPs Warren Entsch and Michael Trout
Click here to View/Download full-sized Image
CQUniversity set to open local hub for Cairns students;
New facility will service 350+ students already in the region;
Welcomed by local MPs Warren Entsch, Gavin King and Michael Trout
More study options to strengthen Cairns' reputation as 'university city'
CQUniversity Vice-Chancellor Professor Scott Bowman said the centre - set to open in mid-2012 - demonstrates the University's faith in Cairns as a great place to live and study.
"We hope to enhance Cairns' reputation as a 'university city', which is a very attractive prospect for business, industry and families considering moving to the region," Professor Bowman said.
"The new centre will give CQUniversity a bricks-and-mortar presence in a city where we have been operating for many years as one of Australia's leading providers of distance education."
Current students, including more than 130 new students this year, will be able to congregate at the centre to form study groups, access e-library and internet resources, lodge assignments, participate in live lectures broadcast via high-speed internet, and make academic enquiries. Prospective students, meanwhile, will be able to explore their degree options and start their enrolment process.
Local Cairns-based staff will operate the centre and provide an on-the-ground point of contact for students and prospective students alike, while 'hot desks' will be in place to allow CQUniversity's rich pool of academic and research talent to operate out of the centre while working in Cairns. CQUniversity already has some senior research staff who will have a base at the new Cairns Distance Education Study Centre, including world-leading embryologist Professor Gábor Vajta and a top reproductive scientist, Adjunct Professor Peter Richardson.
The Vice-Chancellor will be joined this week by local Federal MP Warren Entsch and State MPs Gavin King and Michael Trout to inspect the site of CQUniversity's new Distance Education Study Centre.
Member for Leichhardt Warren Entsch said CQUniversity's new centre would be a huge boost for the region. He said it was wonderful that CQUniversity was cementing its presence in the Far North as it would continue to enhance Cairns' reputation as a centre of learning.
"By committing to basing more people here - students, CQUni staff, researchers and academics - it really makes a good, solid, permanent presence.
"It also provides an even greater range of options for students in that they're able to stay in our region rather than being forced to travel long distances to engage in a course of their choice."
Mr Entsch said he was particularly excited to see Vice-Chancellor Scott Bowman back in the Far North - even if it is only from time to time - to support the CQUniversity students. "He is very familiar with our city and the needs of students and I have every confidence that through his stewardship as Vice-Chancellor this is going to be an outstanding success."
Member for Cairns Gavin King said Cairns urgently needed to diversify its economic base.
"This initiative by CQUniversity is absolutely welcome and I look forward to working with CQUniversity in the future. I'm also pleased to see that CQUniversity delivers its courses in Cairns via distance education, so it's working with students who aren't necessarily after the traditional face-to-face university experience. We now have a two-university city, but I'm not expecting to see the two universities competing for the same students, rather I think they will complement one another. "
State Member for Barron River, Michael Trout, joined Warren Entsch and Gavin King in applauding the opening of the new centre in Cairns and welcoming Vice-Chancellor Scott Bowman.
"This a very positive development for the entire Cairns region. We have a second university willing to invest in this community, which will see more jobs and greater education opportunities for our region.
"With an increasing number of students both from Australia and overseas indicating a strong desire to study and reside in Cairns, this is a major boon to the region. It not only enhances the city's already enviable reputation as a preferred centre for tertiary study; it facilitates easy access to study options and broader educational choices for students opting to live in Cairns or nearby," he said.
As father of a local university student, Mr Trout wholeheartedly reinforced the benefits of a local support centre as a vital communication and administration hub for students.
"Research shows that if you train kids locally, you will retain kids locally after graduation, so this new centre can only benefit our workforce and economic prospects," he added.
One of CQUniversity's Cairns-based students Demi Bailey said she was looking forward to having the option of accessing a local centre, as up until now email had been her main form of contact with the University.
"The option to talk with someone face-to-face as I progress my distance education will help ensure a more friendly and approachable interaction," the first year Psychology student said.
Professor Bowman said that once the centre opened in mid-year, he would encourage Cairns locals to drop in and find out more about what CQUniversity can offer them.
"CQUniversity is developing a range of exciting new programs, many of which are available via distance education," Professor Bowman said. "The most popular courses being studied by our students in Cairns include Health and Medical Sciences; Business, Accounting and Law; Humanities, Psychology and Social Work; Built Environment and Design; Engineering, Mining and Technology; Science and Education.
"We're proudly expanding our Allied Health programs as well as Law, Paramedic Science, Accident Forensics, Project Management, Tourism and a range of other exciting degrees."
In related news, CQUniversity has begun a collaborative partnership with Queensland Ambulance Service to establish a study/educational hub within QAS facilities at Cairns Ambulance Station. This hub caters for rural and remote students based in the north and far north enrolled in the popular Bachelor of Paramedic Science program.
ENDS