Former Mackay student shares stage with Domingo, Carreras and Bocelli
Published on 03 Jun, 2013
Media Contact: j or 0415 221 470 or 02 8383 9500
For Immediate Release
CQUniversity Music Theatre graduate Paul Tabone recently shared the stage with three of the greatest tenors of all time, Plácido Domingo, Jose Carreras and Andrea Bocelli, in a sold out performance at the Arena in Verona, Italy, on June 1...
The former Ingham boy studied Music Theatre at the Central Queensland Conservatorium of Music on CQUniversity's Mackay Campus.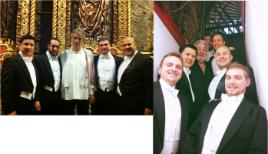 Paul Tabone (pictured right and middle right) with performers in Verona including Andrea Bocelli (white shirt) and Placido Domingo (grey beard). LINK for larger images
Click here to View/Download full-sized Image
Since turning professional he has performed with
Opera Queensland
and has worked with a variety of nationally recognised artists including Rhonda Burchmore, David Campbell, Kate Ceberano, Mercury Four and Guy Sebastian, just to name a few.
In 2011, he performed the supporting principal role, Squelch in Andrew Lloyd Webber's sequel to the acclaimed Phantom of the Opera, Love Never Dies. After successful Sydney and Melbourne seasons the $9.8 million production was filmed by Universal Pictures International and is currently screening in cinemas and available on DVD & Blu-Ray in over 75 countries.
"I have been so blessed," states Paul, who gives thanks for the massive amount of support he receives from his family, friends, teachers and mentors every day.
"I'm not scared of hard work either," he adds.
Since graduating from CQUniversity's Conservatorium, Paul has been constantly employed in opera and musical theatre productions, an enviable trait for any young artist.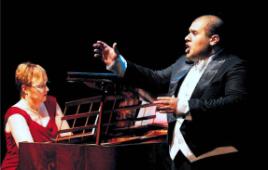 Paul Tabone pictured performing with CQUni academic Judith Brown at the CQ Conservatorium of Music Theatre
Click here to View/Download full-sized Image
When Love Never Dies wrapped its Australian season he decided to move to Europe to pursue his career and further study as a lyric tenor, in where else but Italy.
Inspired by possibly the greatest tenor of the last century, Luciano Pavarotti, Paul headed overseas to commence study. He has studied with Internationally renowned Baritone Renato Bruscon and has studied in London, Wiesbaden, Milan and Florence.
Early in 2013, Paul auditioned for the Luciano Pavarotti Foundation in Modena Italy, a very convenient 15 minutes away from his current base in Reggio Emilia. The Foundation is directed by Signora Nicoletta Mantovani (Maestro Pavarotti's wife, who is also the Director of the Foundation and a prominent producer in Italy).
Signora Mantovani was won over by Paul's talent and has provided him with invaluable support.
On June 1, Paul represented the Luciano Pavarotti Foundation along with four other young tenors at the 'sold out' event in Italy's biggest entertainment venue, the Arena in Verona. He shared the stage with Plácido Domingo, Jose Carreras and Andrea Bocelli in this concert; with an audience of 20,000 in celebration of the life of the great Maestro himself, Luciano Pavarotti.
In early May, Paul was announced as the recipient of the prestigious Brian Boak Developing Performer Bursary with a $10,000 prize. The Empire Theatre Foundation (Toowoomba) is the trustee for this prestigious scholarship. The Foundation's goals reflect those of the late Mr Brian Boak (prominent arts patron and supporter of young talent) to foster appreciation and involvement in the performing arts. The bursary is offered to talented young performers to achieve their goals.
"I am touched and blessed that the Trustees of the Brian Boak bursary at the Empire Theatre Foundation, considered me worthy enough for such a prestigious bursary. It is with support such as this, that I am able to fulfill my goals to become an internationally recognised lyric tenor," said Paul.
Currently Paul is mentored by Australian soprano (now internationally renowned) Jessica Pratt. Paul also currently studies with Jessica's father, Phil Pratt, who was the teacher and mentor to Jessica's success.
The Concert in Verona will be aired on RAI 1 on June 10 2013. Australians may have access to this broadcast. Check local television guides for details.



ENDS