High performance sports coaches offer free tips in Rockhampton
Published on 13 Jun, 2013
Media Contact: Pete Reaburn 0408 760 757
For Immediate Release
Rockhampton coaches, athletes and parents have free access to top coaches with a lifetime of experience at local, state, national and international level.
All interested people are welcome to attend a series of Coach and Athlete Development seminars on various Wednesday evenings scheduled between June and November at CQUniversity's Central Queensland Innovation and Research Precinct. Each seminar will run between 5.30pm-6.30pm.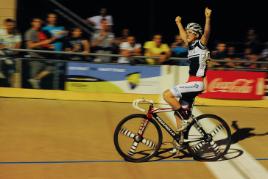 Boosting sports performance
Click here to View/Download full-sized Image
Enquiries are via Assoc Prof Peter Reaburn on 07 4923 2621 and RSVPs are via events@cqu.edu.au.
Panelists and presenters include:
Steve Anderson (Former NRL Premiership Coach and International Rugby Performance manager, Brahmans Rugby Coach)
Barbara Ahmat (Capricorn Claws Netball Coach, Board Member Netball Queensland)
Ken Tucker (National and International Cycling Coach)
Shane Kingston (Australian Junior Swim Team Coach)
Kerrie Smyth (National and International Trampolining Coach)
Peter Reaburn (Coach and Athlete Educator)
Rob Stanton (Former National Powerlifting Coach)
Amanda Fielding (Former Head Coach, Australian's Women's Volleyball Team)
The remaining Wednesday evening session topics:
26 June Coaching styles, qualities of respected/successful coaches
10 July Planning and evaluating your training plan
24 July Secrets to creating a positive team / squad culture
7 August Using sport science on the paddock
21 August Tips to help designing a training program
4 September How to implement training methods
18 September Tips in analysing technique and teaching skills
2 Oct Sharpening mental skills and nurturing life skills in athletes
16 October Promoting sports nutrition and recovery in athletes
30 October Keeping athletes injury- and illness-free
13 November Travel tips for coaches and athletes



ENDS