A bit of stress can be sweet, if you're a stevia plant
Published on 16 Aug, 2012
Media Contact:
For Immediate Release
The stevia plant is popular worldwide as a natural sweetener so, a few years ago, CQUniversity played a major role getting it approved for use as an ingredient in foods and beverages in Australia and New Zealand...
The University put in this groundwork because stevia was recognised as a potential new high-value crop for farmers.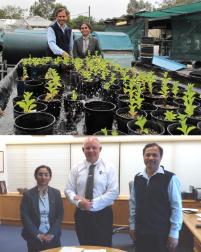 Associate Professor Mousumi Debnath checking her plants with Associate Professor Nanjappa Ashwath (above) and meeting VC Professor Scott Bowman (below)
Click here to View/Download full-sized Image
Now research by an Endeavour Visiting Fellow has shown that salt-stressed stevia plants will accumulate a lot more rebadioside and stevioside (sweetener) than non-stressed plants, proving that a mild stress can enhance production.
The visitor, Associate Professor Mousumi Debnath from the Central University of Rajasthan, India, recently spent 4.5 months at CQUniversity Rockhampton, working on the stress physiology of stevia.
Stevia is an ancient plant that has been cultivated in India for hundreds of years. It has been used in Ayurvedic (Hindu) medicines and is now being exploited for its sweetening properties.
"Stevia is grown in India as well as in Australia, so Mousumi's collaborative study will benefit both countries," says Associate Professor Nanjappa Ashwath, who has been helping to host the visitor.
Dr Debnath has conducted greenhouse and tissue culture experiments and has evaluated two cultivars of stevia. One has been found to be more tolerant than the other. Identification of cultivars that can grow well in stress-prone environments would be the next step in her research.
"Through agronomic treatment and cultivar selection, we could increase rebadioside and stevioside production from the field," she says.
"We have also attempted tissue culture trials, so that the identified superior genotypes can be propagated and distributed to farmers for large scale production."
The visitor has been working with Dr Ashwath and Professor David Midmore, of the Centre for Plant and Water Science.
"We are keen to develop a collaborative project with the idea of selecting cultivars that can grow well in both countries, particularly in salt affected soils, and to produce enhanced quantities of the sweetener, rebadioside and stevioside," Dr Ashwath says.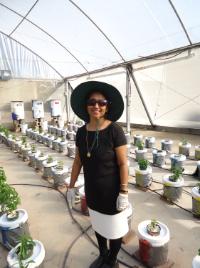 Assoc Prof Debnath at work on Rockhampton Campus
Click here to View/Download full-sized Image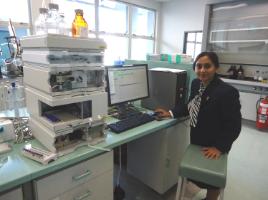 LINK for a larger image
Click here to View/Download full-sized Image
ENDS