Noosa becoming a hub for Aussie tourism industry's engagement with UN
Published on 07 Aug, 2012
Media Contact: : Steve Noakes, 0418 774 295
For Immediate Release
Noosa is becoming a hub for the Australian tourism industry's engagement with United Nations agencies, thanks to CQUniversity.
This year, the University commenced its new degree in Tourism offered full-time at the Noosa Campus. The expansion of linkages with the United Nations agencies on tourism issues results in students and staff benefiting through leading-edge course content, international perspectives and research access.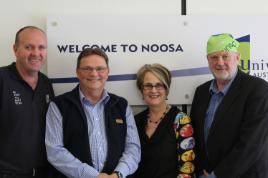 L-R Dr Scott Richardson, Steve Noakes, Dr Sue Davis and Prof Mike Horsley are helping to link Noosa tourism to the world
Click here to View/Download full-sized Image
Linkages are already established with the UN World Tourism Organisation, the UN Environment Program, the International Labour Organisation (ILO), and UNESCO Biospheres.
The two senior lecturers in Tourism Management, Dr Scott Richardson and Steve Noakes are both members of the Global Panel of Tourism Experts within the United Nations World Tourism Organisation.
CQUniversity is one of only a few Australian universities that are affiliate members of the UNWTO, the world's largest intergovernmental agency for tourism. The Expert Panel serves as a global forum for tourism policy issues and as a practical source of tourism know-how.
"It enables us to contribute to, as well as draw on, a range of research and networks to ensure we deliver a first-class tourism degree program here at CQUniversity," Dr Richardson says.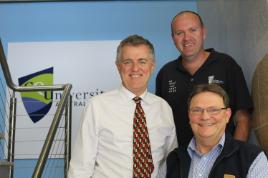 L-R Discussing Noosa's tourism links to the world are Dean of Management & Marketing Professor Roger March with Dr Scott Richardson and Steve Noakes
Click here to View/Download full-sized Image
CQUni also actively participates in the education and research division of the UNWTO, known as the Themis Foundation, as well as the UNWTO World Committee on Tourism Ethics and other UNWTO-supported organisations such as the Global Sustainable Tourism Council.
In addition, CQUniversity Noosa is now the hub for a regional Asia Pacific initiative as part of the UNEP's Global Partnership for Sustainable Tourism. Mr Noakes has been appointed as Senior Sustainable Tourism Consultant to the Sustainable Consumption & Production Branch within the Paris-based UNEP Division of Technology, Industry & Economics. He is playing a leading role in the development of a new UNEP Asia Pacific Network for Sustainable Tourism (Asia Pacific NEST).
"Tourism development has a special relationship with the environment and its local communities that requires careful planning to ensure that negative impacts are minimised and positive opportunities are taken to support local prosperity, biodiversity and cultural heritage," Mr Noakes says.
"This engagement with the UNEP tourism program signals to prospective students in our new tourism degree that CQUni continues to build international networks with tourism policy and planning experts both globally and in our Pacific Asia region, which can enhance student-integrated work and learning opportunities."
From his base at CQUni Noosa, Mr Noakes is the lead international consultant to the ILO for its current Green Jobs in the Tourism sector project being piloted in Indonesia
"Jobs in tourism are green when they help reduce negative environmental impact and lead to environmentally, economically and socially sustainable tourism enterprises and economies," he says.
"They are decent jobs that reduce consumption of energy and raw materials, limit greenhouse gas emissions, minimise waste and pollution, and protect and restore ecosystems.
"As a specialised agency of the United Nations system, the ILO is the international organisation responsible for drawing up and overseeing international labour standards, bringing together representatives of governments, employers and workers to jointly shape policies and programs promoting Decent Work for all.
"The ILO has an active range of projects in the tourism sector, including green jobs and the promotion of green economies, which are pivotal for achieving an economic and social development that is also environmentally sustainable."
The Noosa Campus also has an active engagement with Queensland's first United Nations Educational, Scientific and Cultural Organisation (UNESCO) Biosphere located in the Noosa region. CQUniversity's Dr Sue Davis is the Chair of the Governance Board for the local UNESCO Man and Biosphere project, which encourages harmony between people and nature for both conservation and sustainable development. Dr Scott Richardson is active in the biosphere tourism interface between sensitive natural environments and local communities.
Noosa Campus Head Professor Mike Horsley says these international connections will be an increasingly positive factor as the campus grows student numbers, research outputs and engagement activities.
"Through expanding our tourism linkages with these different UN agencies, we further develop international and national leadership and eminence in our engagement and academic activity while strengthening our regional commitment to local relevance," he says.
LINK for more on: Tourism at CQUni, Noosa Campus, Noosa Biosphere, the ILO, the UN World Tourism Organisation and the Global Partnership for Sustainable Tourism
ENDS