CQUni contributes to 'sustainable tourism' event in Indonesia
Published on 17 Sep, 2012
Media Contact: Steve Noakes, Tel 0418 774 295
For Immediate Release
CQUniversity Tourism academic Steve Noakes has just returned from Bali where he addressed the inaugural national conference on sustainable tourism in Indonesia.
"This type of international engagement for CQUni results in a mutually beneficial exchange of knowledge in the area of international case-studies in sustainable tourism policy and planning," Mr Noakes said.
LINK HERE for details on CQUniversity's leading Tourism degree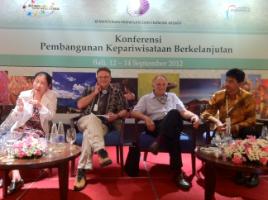 Steve Noakes (second from left) with other Bali conference speakers from West Java, Belgium and Indonesian Ecotourism
Click here to View/Download full-sized Image
Based at CQUniversity Noosa Campus, Mr Noakes said the Republic of Indonesia began to strategically plan for tourism development some 40 years ago and, by 1980, received 562,000 international visitors.
This increased to 7 million international visitors in 2010 and, by 2014, the Ministry of Tourism and Creative Economics (MoTCE) is targeting 8.6 million arrivals.
"The nation's share of the global tourism market and new opportunities to service the rapidly growing domestic middle class are expected to ensure tourism remains a key strategic sector within the national development agenda," he said.
"The message delivered to the Conference was that tourism growth will place even greater stress on what are in some cases already threatened or vulnerable natural and cultural environments across Indonesia, placing urgency on the need to increase the awareness and practices for sustainable tourism approaches by industry and tourists alike.
"Tourism is more than just a vital foreign exchange earner for destinations such as Indonesia.
"If conducted in a sustainable way, it can be harnessed to contribute to sustainable development and the Millennium Development Goals through jobs and employment creation in urban and rural regions, spreading development into poorer and remote rural areas, improving transportation and telecommunications corridors, generating 'green jobs' with decent work and skills training for women and youth who might not otherwise have such opportunities."
CQUni's tourism academics show leadership in sustainable tourism engagement between Australia and a number of countries in the Asia Pacific region, including Indonesia.
"These strong relationships and productive partnerships add considerably to the variety and value of our course content in areas such as sustainability, cross-cultural and indigenous issues as well as research collaboration opportunities and promoting our new tourism degrees," Mr Noakes said.
ENDS