Bundaberg academics make national Top Ten for UniJobs 'Lecturer of the Year'
Published on 23 Apr, 2013
Media Contact: Matthew Rockloff 0438 377 625 and Ron Bishop 0449 577277
For Immediate Release
CQUniversity Bundaberg academics Ron Bishop (Aviation) and Associate Professor Matthew Rockloff (Psychology) have been named in the national Top Ten for the UniJobs Lecturer of the Year awards.
Topping more than 4000 nominees from around Australia, Mr Bishop came in at number 6 with Dr Rockloff at number 10.
"It's a privilege to be in a job that stimulates people to learn, and for me to play a small part in contributing a future filled with passionate life-long learners," Dr Rockloff says.
"I'm very grateful to the students who nominated me, and touched by their recognition of my efforts."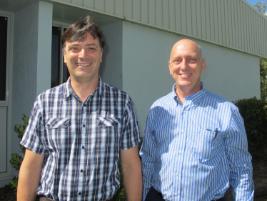 Matthew Rockloff (left) and Ron Bishop both made the national Top Ten for the Lecturer of the Year Award run by UniJobs
Click here to View/Download full-sized Image
Based on votes by students and fellow staff members, the award recognises lecturers who have gone 'above and beyond' in their efforts to better the lives of their students and campus communities.
More than 100,000 votes were cast for the latest UniJobs competition, making it the most popular award to date.
The award, now in its sixth year, is an initiative of www.UniJobs.com.au with details of all Top 10 nominees from each university available via http://www.lectureroftheyear.com.au .
LINK HERE, HERE and HERE re AVIATION programs or HERE for PSYCHOLOGY programs

Click here to View/Download full-sized Image
TOP LECTURERS FROM CQUNIVERSITY

01
Ron Bishop
CQUniversity
02
Matthew Rockloff
CQUniversity
03
Tania Signal
CQUniversity
04
Wendy Hillman
CQUniversity
05
Daniel Teghe
CQUniversity
06
Michael Baron
CQUniversity
07
Angelina Ambrosetti
CQUniversity
08
Donna Brien
CQUniversity
09
Dr Ananda Wickramasinghe
CQUniversity
10
Glen Russell
CQUniversity
ENDS