CQUniversity secures $6m 'Innovation & Research Precinct' for regional Queensland
Published on 01 Sep, 2011
Media Contact: Chris Veraa: 0419 392 303, OR Marc Barnbaum: 0409 196 039,
For Immediate Release
A new state-of-the-art research precinct is set to put Central Queensland on the world map for scientific innovation, following an initial investment of more than $6 million by CQUniversity...
The former CSIRO JM Rendel Laboratory in Rockhampton, one of Australia's premier livestock research facilities in years gone by, will be transformed into a regional research and innovation powerhouse thanks to CQUniversity's grand refurbishment plans.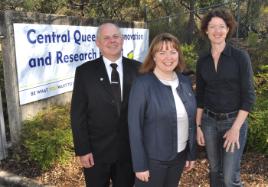 VC Scott Bowman, DVC Jennelle Kyd and MP Kirsten Livermore deliver the CQIRP announcement
Click here to View/Download full-sized Image
"I cannot overstate how much value the new Central Queensland Innovation and Research Precinct - or CQIRP ('see-kwirp') - will generate for this region," CQUniversity Vice-Chancellor and President, Professor Scott Bowman said.
"Central Queensland - from Mackay to Bundaberg, from Gladstone to Emerald - has limitless untapped potential that is begging to be unlocked through unique research and innovation. We believe CQIRP will provide the key.
"CQUniversity is embarking on an ambitious agenda of research and innovation resurgence over the next 10 years, which will revolutionise the University and the way we impact on the communities we service.
"We are therefore putting our money where our mouth is, with plans to inject millions into staffing, resourcing and equipping CQIRP into a truly world-class facility over the next few years.
"Put simply, this new development will position Central Queensland as the research and innovation capital of regional Australia, with benefits that will continue to flow to the community from today on."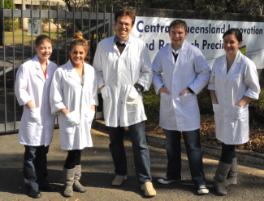 Dr Andrew Fenning (centre) with lab-based research students L-R Amy Suthers, Alannah van Waveren, Douglas Jackson and Candice Pullen
Click here to View/Download full-sized Image
Member for Capricornia Kirsten Livermore, who was instrumental in brokering the purchase of the former CSIRO laboratory, said she was delighted with the outcome for the region.
"I welcome CQUniversity's renewed focus on research and the major investment it will make in this area over the coming years," Ms Livermore said.
"The new Central Queensland Innovation and Research Precinct will deliver world-class research to meet the unique needs of communities and industries here in the region. I congratulate CQUniversity for its efforts in securing, and building upon, this great research facility."
Ian Ogden, Central Queensland's Innovative Regions Facilitator at the Department of Innovation, Industry, Science and Research, said CQIRP was a concept everyone in the region could get behind.
"I believe CQIRP will act as a hub for all researchers, businesses and community groups in this region to come together and collaborate for regional benefits," Mr Ogden said.
"CQIRP is the place where we will turn good ideas into great outcomes for our region."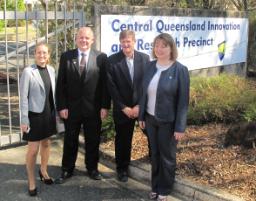 L-R Rockhampton Regional Council rep Penelope-Jane Fry, VC Scott Bowman, Innovative Regions Facilitator Ian Ogden and DVC Jennelle Kyd
Click here to View/Download full-sized Image
With the CQIRP site now secured, CQUniversity will begin refurbishing the existing laboratories, with the first active research projects to start moving in by December this year.
By 2012, projects covering everything from natural resources, to water, to environmental management, to immunology and preventative health, will be brought 'in house'.
"These labs will have an immediate impact on CQUniversity researchers working on vaccines to prevent middle ear infections; our innovations in plant bio-fuels and new commercial crops; and the expansion of our research programs in work-related fatigue and OH&S management, among many other focus areas critical to this region," said CQUniversity Deputy-Vice Chancellor (Academic & Research) Professor Jennelle Kyd.
"We are now actively recruiting high profile researchers and their teams - our new Engaged Research Chairs - to steer the University's future research direction and tackle issues that are critical to the unique needs of Central Queensland communities.
"We welcome other innovators and research organisations to join with us at CQIRP - there is strength in numbers and great reciprocal benefits to be achieved for all in the region."
ENDS