Geologists discuss ongoing commitment to research in Bowen Basin
Published on 20 Jun, 2013
Media Contact: Media contact: Kirk Henderson 0428 449 338 or email
For Immediate Release
Leading geologists and coal mining industry researchers have converged in Mackay this month for the 2013 combined Bowen Basin Geologists' Group (BBGG) and Australian Coal Association Research Program (ACARP) Meeting.
The event was held over two days at CQUniversity Mackay on Monday, June 17 and Tuesday, June 18.
The event had a strong focus on the continued commitment by the mining industry to research and development, despite the current downturn.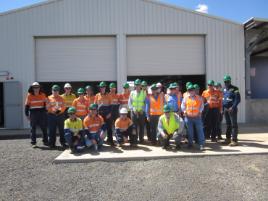 The Bowen Basin Geologists' Group at a recent site meeting
Click here to View/Download full-sized ImageRepresentative of BBGG, David Edwards, said the event attracted a large number of experts across a broad range of organisations to discuss continued research collaboration between the mining industry and peak research bodies such as ACARP, to make the mining industry safer and more efficient.
ACARP is an industry-funded organisation, with a mission to research, develop and demonstrate technologies that lead to the safe, sustainable production and utilisation of coal.
Representatives from ACARP also discussed current research that is being done in the Bowen Basin, as well as opportunities for research grants.
The event also recognised contributions to the coal industry and the advancement of knowledge of the Bowen Basin through the Leichhardt Award.
CQUniversity is in a unique position to provide training and education for the mining industry through a number of undergraduate and postgraduate programs. For more information on these offerings, visit http://www.cqu.edu.au/explore.



ENDS