Rocky hosts climate change author from USA
Published on 25 Oct, 2012
Media Contact: Dr Susan Kinnear via 0407 587 792 for arranging interviews
For Immediate Release
American academic Dr Elizabeth Malone has been visiting Rockhampton to collaborate with CQUniversity researchers working on social networks and climate change.
The CQUni team is leading a $280,000 project funded by the National Climate Change Adaptation Research Facility (NCCARF)*.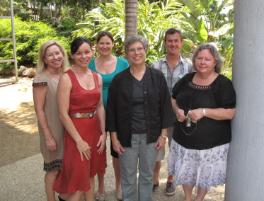 Dr Elizabeth Malone (centre) with L-R research project team members Vicki Ross, Dr Susan Kinnear, Kym Patison, Dr Dave Swain and Julie Mann
Click here to View/Download full-sized Image
They will use 'social networks analysis' to understand how stakeholders communicate and share information about water resources and flooding disasters in their region.
Dr Malone, the author of a book titled Debating Climate Change, is based at the University of Maryland's Joint Global Change Institute.
Helping to host the visit, CQUniversity researcher Dr Susan Kinnear says "Liz has been here to do some team work with us, as well as to run stakeholder workshops with regional organisations involved in the flood response".
"During her visit, she kindly agreed to present an introduction to social networks analysis and its uses for a range of research applications.She also reflected on her career journey, and shared some tips for researchers looking to find or grow their niche area.

LINK for a larger image of Dr Malone chatting with CQUni project team members
Click here to View/Download full-sized Image
"Liz also spoke about the work of the Joint Global Change Institute - a partnership between the Pacific NorthWest National Laboratory and the University of Maryland - to determine whether there are any further collaborations that might be possible with research staff and/or students."
As part of Dr Malone's visit, CQUniversity's Institute for Resource Industries and Sustainability (IRIS) hosted her presentation on Sociology, Climate Change, and Integrated Research.... How to make up a career!.
LINK also to Researchers eye 'social networks' beneath surface of water and flood management
* Details on NCCARF are via http://www.nccarf.edu.au/ .
ENDS