CQUni researcher Corneel named as a Young Tall Poppy
Published on 01 Dec, 2011
Media Contact:
For Immediate Release
CQUniversity researcher Dr Corneel Vandelanotte has been named among eight Queensland Young Tall Poppy Science Award Winners for 2011.
Rockhampton-based Dr Vandelanotte* was among winners recognised and celebrated in front of hundreds of guests at the Premier's Science and Innovation Reception at Parliament House in Brisbane this week.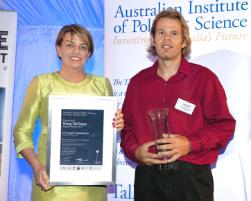 Dr Corneel Vandelanotte is congratulated by Queensland Premier Anna Bligh
Click here to View/Download full-sized Image
LINK for the official AIPS media release
Dr Vandelanotte's research is focused on finding effective and innovative methods to increase physical activity in large numbers of Australians at a low cost. He has designed and evaluated several innovative website-delivered physical activity interventions.
The latest Tall Poppies were named and awarded by Premier Anna Bligh and Dr Geoff Garrett AO, Queensland Chief Scientist.
They will spend the next year engaging with teachers, school students, parents and the broader community as part of the Tall Poppy Campaign run by the Australian Institute of Policy and Science.
CQUniversity's Dr Mitch Duncan was among 10 Queensland winners in 2010.
Dr Vandelanotte's award came during a busy week as he is also representing CQUniversity at the NHMRC Scientific Symposium at the National Gallery of Australia in Canberra. The symposium was organised to celebrate the 75th anniversary of the NHMRC (the National Health and Medical Research Council).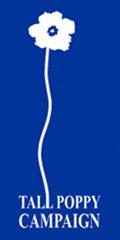 Click here to View/Download full-sized Image
The CQUniversity researcher is delivering a presentation about Internet-based interventions to promote physical activity: A randomised trial of text, video and combined delivery-modes'.
"The Young Tall Poppy Science Awards aim to recognise early career researchers who have achieved significant scientific milestones and have demonstrated their willingness and ability to engage people in science," says Australian Institute of Policy and Science Executive Director, Elektra Spathopoulos.
"The awardees are passionate about the need to share their research with the community and about encouraging young people to think seriously about pursuing science into their future education and career pathways," she explained.
"With science issues and policy being debated more in the public sphere, and still decreasing enrolments in senior high school science, the need to inspire young people about science and to engage and inform the wider community has never been more important."
Since the Tall Poppy Campaign began over 10 years ago, former Young Tall Poppy Science Award winners have continued to excel, winning more senior science awards, including Eureka Prizes and the Prime Minister's Prizes for Science.
* Dr Corneel Vandelanotte is a NHRMC & NHF Post-doctoral Research Fellow and Acting Director of the Centre for Physical Activity Studies at the Institute for Health and Social Science Research at CQUniversity. Dr Vandelanotte completed his PhD at Ghent University in Belgium in 2004, and moved to Australia in 2005. Dr Vandelanotte's research focuses on the development and evaluation of website-delivered and/or computer-tailored physical activity interventions, with a population health approach to behaviour change. As an early career researcher Dr Vandelanotte is an author on 23 peer-reviewed publications and was co-awarded $2,376,098 of competitive research money.
ENDS