Researcher looks at fresh food shopping and the 'need for touch'
Published on 11 Jun, 2013
Media Contact: Via 0438 103 368
For Immediate Release
If you're shopping online, are you more likely to buy fresh fruits and vegetables if they are pictured in someone's hands? ...
Is it possible to deduce the weight, texture and hardness (or softness) of a product viewed in a photo? Does the colour of the packaging play a part?
These are the sorts of questions being asked by CQUniversity research higher degree candidate David Harris who is working out ways to alleviate the resistance to buying fresh foods in an online environment.
Mr Harris will be carrying out some online surveys in coming months and anyone interested in helping out can contact him via d.p.harris@cqu.edu.au or use a standard computer to visit the survey site http://cqu.products.questionpro.com/ .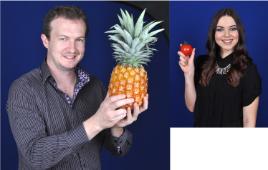 Researcher David Harris gets in touch with his subject matter while model Mikaela McTier-Browne shows how fresh produce can look in a photo. LINK for larger images
Click here to View/Download full-sized Image
His research is being supervised by Dr En Li and Dr Kylie Radel.



ENDS