Ancient sea creature attracts visitor from England
Published on 01 Nov, 2012
Media Contact: For interview 0499 863 839
Embargoed Until:
English PhD student Rachel Williams has come all the way to CQUniversity Rockhampton to research one of the most ancient and iconic sea creatures, the pearly nautilus, which is best known for having a beautiful shell.
Unfortunately for the many-tentacled creature, this same shell makes it a favourite with collectors and Rachel wants to help produce data to inform decisions on whether the nautilus needs formal protection against harvesting.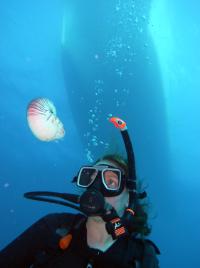 Rachel Williams collects her latest specimens
Click here to View/Download full-sized Image
Rachel, who is based at the Centre for Wildlife Conservation at the University of Cumbria, UK arrived at the Rockhampton Campus in September after studying the animals at Osprey Reef while out with Mike Ball Dive Expeditions.
Rachel is now working with live specimens on a variety of behaviour studies to assess how these unique animals respond to factors such as wavelength of light and food source.
It's believed the creature comes much earlier on the evolutionary scale than the more commonly recognised squid, cuttlefish and octopus.
Two of Rachel's doctoral supervisors, Dr Andrew Fenning and Professor Owen Nevin are based at CQUniversity and her primary supervisor, Dr Billy Sinclair, is a former CQUniversity scientist.
Dr Sinclair says Nautilus have been around for millions of years and live hundreds of metres below the surface. Luckily, they seem to have a fondness for raw chicken which makes them possible to catch for research purposes.
A small cohort of animals have arrived at Rockhampton for Rachel's behavioural study and will also form a display for biology students and visiting school children.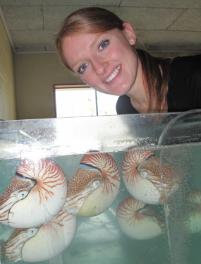 Rachel prepares for her research on campus
Click here to View/Download full-sized Image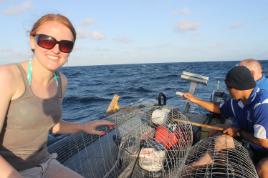 Rachel out on the boat with her collecting equipment
Click here to View/Download full-sized Image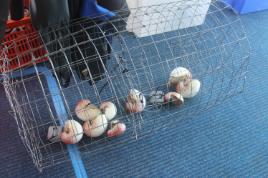 The latest specimens
Click here to View/Download full-sized Image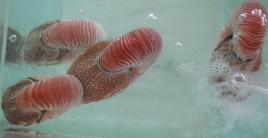 LINK for a larger image
Click here to View/Download full-sized Image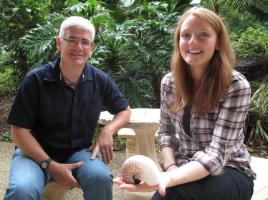 Rachel Williams with her Cumbria University colleague Dr Billy Sinclair on Rockhampton Campus recently
Click here to View/Download full-sized Image
ENDS