Bundaberg residents invited to explore 'The Secret Life of a Gambler'
Published on 12 Apr, 2012
Media Contact: Gail Smith - : 07 4153 8400 M: 0418 156 107 Matt Rockloff 07 41507138 ... 0438 377 625 email:
For Immediate Release
Bundaberg residents are invited to explore 'The Secret Life of a Gambler' thanks to a Research Unplugged presentation arranged by CQUniversity's Institute for Health and Social Science Research (IHSSR).
This FREE, informal, discussion-based presentation aims to shed light on the hidden world of people with gambling problems. It will be held from 6pm-7pm on Thursday April 19, at the Burnett Riverside Motel Governor's Room at 7 Quay Street, Bundaberg. Finger foods will be provided.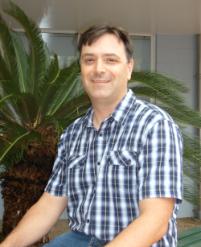 Associate Professor Matthew Rockloff
Click here to View/Download full-sized Image
Local gambling help counsellor Gail Smith will describe her 'gambling spiral' model of social and environmental forces that work together to transform simple problems in limiting spending into more a complex gambling addiction.
Ms Smith will be joined by CQUniversity researcher Associate Professor Matthew Rockloff, who will describe the deep psychological motivations behind problematic gambling, including the needs to both escape self-focused attention and feel accepted by others.
Interested people are encouraged to RSVP by April 12 to to j.douglas@cqu.edu.au or on 4923 2184 or via the Facebook Events page - http://www.facebook.com/events/404118722936487/ .
# # #
Bios:
Assoc Prof Matthew Rockloff is Deputy Director of the Institute for Health and Social Science Research, one of Australia's leading providers of applied social research. He is also Head of the Population Research Laboratory at CQUniversity, which employs 40 part-time staff and surveys population health using an in-house 20-station telephone interviewing system.
Mrs Gail Smith (Diploma of Counselling) is the Bundaberg Gambling Help Counsellor and Community Educator for the QLD Government-funded Gambling Help Service. The majority of her work is in counselling problem gamblers and their family members. She also liaises with local gaming venues to promote responsible gambling practices.
ENDS