Specialist nurse focuses on physical health of people with a mental illness
Published on 30 May, 2013
Media Contact: Brenda Happell via or 0409 756 775 or 07 4934 4094
For Immediate Release
CQUniversity researchers are part-way through a six-month trial of a specialist nurse position focused on the physical health of people with a mental illness...
The trial of a 'cardiometabolic health nurse' - possibly a world first - has been developed in light of figures indicating that people with a mental illness face a lifespan almost three decades shorter than those from the general population.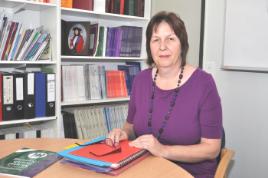 Professor Brenda Happell
Click here to View/Download full-sized Image
Researchers led by Professor Brenda Happell at CQUniversity's Institute for Health and Social Science Research and Centre for Mental Health Nursing Innovation, believe that a focus on treatments for mental illness can lead to under-treatment of physical health factors leading to cardiac disease and diabetes.
The cardiometabolic health nurse role will address this by linking people with a mental illness with primary health care providers. This will involve referrals to doctors for routine blood tests such as cholesterol and diabetes screening, referrals to dieticians and exercise physiologists for lifestyle advice, and referrals for dental and sexual healthcare. The cardiometabolic health nurse will co-ordinate and follow up on these referrals leading to better physical healthcare for those with a mental illness.
The current trial represents a partnership with Central Queensland Mental Health Service and is funded by the Australian Centre for Health Services Innovation. It involves voluntary referrals.



ENDS