Our students chalk up a turnaround in the classroom
Published on 28 Nov, 2012
Media Contact:
For Immediate Release
CQUniversity students like Erin Bills and Cas Martin are helping to create a turnaround in classroom results by getting involved with the 'ARTIE' (Achieving Results Through Indigenous Education) program...
Named in honour of proud Indigenous State of Origin legend Arthur Beetson, the Former Origin Greats ARTIE program is an Australian Government supported program funded under the Sporting Chance initiative.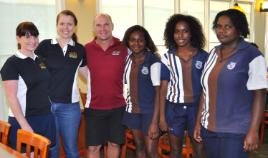 L-R CQUniversity Learning Management students Erin Bills and Cas Martin with league legend Alfie Langer and Rockhampton High students Enna Toby, Kaye Akee and Justine Kusu
Click here to View/Download full-sized Image
ARTIE gives Indigenous students attending selected Queensland secondary schools access to a program that encourages and rewards improvements in school attendance, behaviour, academic achievement and effort.
The program also promotes the importance of Aboriginal and Torres Strait Islander cultural identity and awareness amongst its participants, adopting the motto 'Inspire, Encourage, Succeed' to form the basis of strategies aimed to improve the schooling endeavours of participating students.
Ms Bills and Ms Martin were among 13 Learning Management students from CQUniversity who helped around 30 Rockhampton High School (RHS) students gain improvement in their school performance. Other CQUniversity participants were involved with schools in the Gladstone and Noosa regions.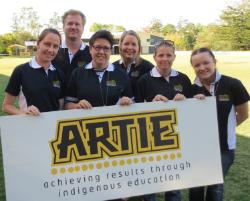 Learning Management students from CQUniversity Noosa who were involved in ARTIE this year L-R Amy Lyle, Greg Barry, Leanne Rehbein, Miriam Joy, Sharon Morrison and Teagan Frawley
Click here to View/Download full-sized Image
"From participating in the ARTIE program I feel as though I have taken another step toward the future I would like," Ms Bills said.
"By going into classrooms to work with students I have learnt how to build a teacher/student relationship that makes a difference.
"It is also helpful in developing skills and ideas for your future. As a future learning manager, you get to see how learning managers handle situations like behaviour management, engaging students and catering to the whole class.
"You also pick up little handy things you know you would like to do when you have your own classroom. I think the students from RHS gained a little more confidence in their work knowing that there is someone who can support them."
CQUniversity's Rockhampton-based participants recently celebrated a year of success at a luncheon alongside RHS students and former State of Origin great Allan Langer, who was involved as part of his ongoing involvement in the ARTIE program.
Former Origin Greats Education Programs Manager Matt Martin says school students involved in the RHS initiative had improved in Maths and English.
"In total over 45 areas of improvement were identified," he says.
Executive Chairman of the Former Origin Greats, Gene Miles attributes much of the success of the program to the support provided by CQUniversity students.
"ARTIE is successful because we inspire students through player visits and connectivity, but equally, because we have the tutoring support from volunteers from CQUniversity. Their input is invaluable," Mr Miles says.
Professor Helen Huntly, Dean of the School of Education & The Arts says she is pleased to partner with the ARTIE team in offering this terrific opportunity to pre-service teachers.
"This authentic learning experience adds value to our teaching programs, and we are grateful to the ARTIE team for enabling us to develop such a strong and positive partnership that has great outcomes for all involved," Prof Huntly says.
LINK HERE for more details on the 'ARTIE' program
ENDS