CQUni contributes to UN push for sustainable tourism in Africa
Published on 19 Sep, 2011
Media Contact:
For Immediate Release
CQUniversity senior lecturer Steve Noakes has returned from Dar es Salaam province in Tanzania, where he was lead facilitator for a multi-country seminar on tourism policy and strategy.
The five-day seminar was conducted by the United Nations World Tourism Organisation and its Themis Foundation for Education & Training.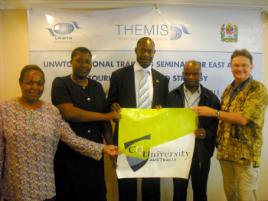 Steve Noakes with senior delegates from ministries of Natural Resources and Tourism from Tanzania, Kenya, Zimbabwe and Burundi
Click here to View/Download full-sized Image
LINK for details on the UNWTO Regional Training Seminar on Tourism Policy and Strategy for East Africa
Over 60 senior delegates from Tanzania, Kenya, Burundi, Zimbabwe and Sudan participated in the seminar. Participants were from public and private sectors in tourism, natural resources, antiquities and cultural sites, and planning departments.
Mackay-based Mr Noakes is working alongside Dr Scott Richardson from Noosa Campus to implement CQUniversity's new tourism degrees. These key academics are members of the UNWTO Global Panel of Tourism Experts.
They will ensure CQUniversity's new Bachelor of Tourism and and Bachelor of Business with a Tourism major have applicability in Australia, along with global linkages to leading-edge sustainable tourism knowledge and practices.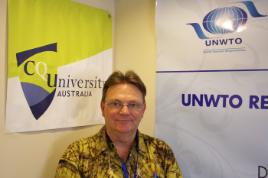 Steve Noakes pictured at the UN-backed event in Africa
Click here to View/Download full-sized Image
ENDS