Losing brother sparks Lynelle's desire for fulfilling life
Published on 05 Jan, 2012
Media Contact:
Embargoed Until:
Lynelle Fallon says the tragic loss of her brother to suicide at the age of 20 was the spark which inspired her to consider higher education and a professional career...
The Mackay woman with a proud Indigenous heritage says that, at the time of the family tragedy, she was a stay-at-home mum with two children.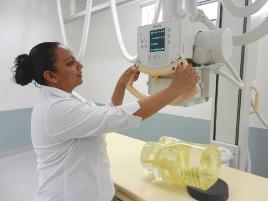 Lynelle Fallon in the medical imaging lab at Mackay Campus
Click here to View/Download full-sized Image
"My life came to an ultimate low. I was faced with a life choice of either to stay down or move on. I decided I needed to live my life to the fullest for my brother."
Lynelle says she had always wanted to go to university but this had always seemed an unattainable dream.
"After I gave birth to my third baby I started studying externally with CQUni doing the STEPS preparatory program, as I didn't do grade 11 and 12.
"Working in the kitchen at the Mackay Base Hospital really cemeted my love for a career within the health sector. I went on to do introductory chemistry, physics and biology with the Women Into Science and Technology (WIST) program at CQUni before starting the new Medical Imaging degree full-time on Mackay Campus.
"During my first year of the Imaging program I carried my fourth baby and gave birth about six weeks before the term two exams."
Lynelle says her family has made a financial sacrifice as her husband Cameron stopped work to help look after the newborn baby girl plus the two boys and eldest girl.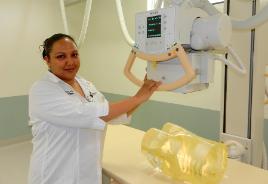 Lynelle Fallon's keen to make the most of her opportunities
Click here to View/Download full-sized Image
"Cameron has been the best and I could not have done it without him. I study a lot at night and into the early hours of the morning and I plan ahead, organise and prioritise all tasks."
With her goal of a career with Queensland Health still a few years away after graduation, Lynelle has not stopped viewing longer-term options.
"When I finish my degree I would love to become more involved with Indigenous Allied Health Australia (IAHA) and help contribute towards the 'Close the Gap' campaign to improve the health and life expectancy of Aboriginal and Torres Strait Islander peoples.
"Maybe I am being overly ambitious but I have already completed half of a chef apprenticeship and maybe sometime in the far far future for something fun and different, I would like to complete my apprenticeship and become a qualified chef to finish what I started."
Lynelle says that when she feels emotionally strong enough to help others, she would also like to complete suicide prevention training with the Grapevine Group and Lifeline to help others and promote awareness.
While having spent the past 16 years in Mackay, Lynelle was actually born in Mount Isa and is a proud Waanyi woman with a strong connection to her grandfather's country at Louie Creek. Her mother has an Aboriginal and Chinese background, and her father's background is Torres Strait islander, Japanese and Malay.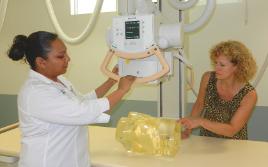 Lynelle Fallon in the medical imaging lab with lecturer Caroline Falconi
Click here to View/Download full-sized Image
ENDS