Hail Creek Mine CQUniversity scholarship program now open
Published on 09 Jan, 2012
Media Contact:
For Immediate Release
CQUniversity and Hail Creek Mine are continuing their support of local students by offering seven scholarships* worth a total of $28,000.
Since 2009, the Hail Creek Mine CQUniversity Partnership Program has been offering scholarships worth $4000 each over two years to first-year nursing, health, business, science, IT, and engineering students.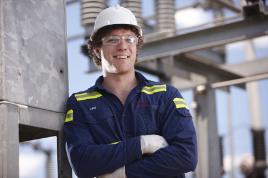 Levi Houley is looking forward to a career in the mining industry once he's finished his electrical engineering degree at CQUniversity.
Click here to View/Download full-sized Image
Former recipients Levi Houley and James Mogg, who are both studying engineering at CQUniversity, strongly encourage their peers to start applying.
Levi Houley, aged 21, has only six months to go of his electrical engineering degree and said he is hoping to get a job in the mining industry upon graduation.
"In my course I've undertaken two six-month work placements, including at Hail Creek Mine where I was mentored and got to solve real engineering problems," Mr Houley said.
"For example, I did my thesis on a project that involved modelling the site's two electrical rope shovels, one that ran on DC drive and the other on AC drive.
"The AC shovel was the first in Australia of its type so it was a great opportunity to help the team determine the impacts of this shovel on the site's electricity loading."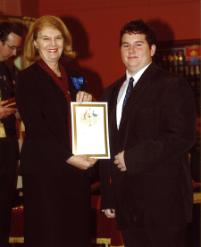 James Mogg receives a Queen's Scout Award from the Governor of Queensland Penelope Wensley AC in a presentation in Brisbane recently
Click here to View/Download full-sized Image
James Mogg, aged 18, said it was a challenge moving from Year 12 to university.
"With all the changes going on, I was glad that I had the scholarship to help out with expenses like text books," Mr Mogg said.
"It's been a great year and now I'm working over the break at the Dumbleton Water Pump Station upgrade to put what I've learnt in mechanical engineering into practice."
A high achiever at university, Mr Mogg has also been an outstanding ambassador for the community, receiving a Queen's Scout Award from the Governor of Queensland Penelope Wensley AC in September last year.
Hail Creek Mine general manager operations Rowan Munro said the scholarships support local people in their chosen fields and provide opportunities to pursue their career in central Queensland.
"We open these scholarships up to a variety of disciplines so that we can continue building the skills capacity of the entire region, which benefits not just mining but a wide range of other industries as well," Mr Munro said.
"I strongly encourage people who are looking to study any of the specified courses full time at CQUniversity's Mackay Campus to apply."
Mr Munro said the recipients will also have access to opportunities such as undertaking work experience and being assigned a professional in their field of study as a mentor.
"The experiences that they can gain through the scholarships will be a great advantage when they pursue employment after university," Mr Munro said.
To apply for one of the scholarships or to find out more, please contact Hail Creek Mine's Marie Cameron on 07 4951 6437 or email marie.cameron@riotinto.com. Applications are being accepted now and close February 24.
* The scholarships will be made available for first-year students enrolled at CQUniversity Mackay and who have had a primary residence in the year prior in the Mackay Whitsunday region.
ENDS