Forget the 'flux capacitor', scientists need time to turn trees into fuel
Published on 21 Jul, 2011
Media Contact:
For Immediate Release
It all seemed so easy in the Back to the Future movies, as Emmett 'Doc' Brown shoved a banana peel and other garbage into his DeLorean time machine ready to engage the flux capacitor. In reality, scientists need a thorough experimental phase to work out how to turn plants into an effective biodiesel, and CQUniversity is establishing a research group drawing on plant scientists and engineers for this very purpose.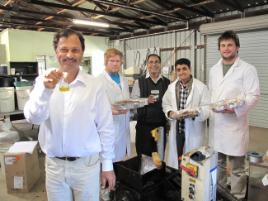 Showing the various stages of the biodiesel extraction process are L-R Nanjappa Ashwath (CQUni), Cameron Laing (QUT), Mohammad Rasul (CQUni), Mohammad Jahirul Islam (QUT) and Jakub Leski-Taylor (QUT). Masud Khan (CQUni) is also part of the project
Click here to View/Download full-sized Image
So far, they have identified seeds from the native Beauty Leaf Tree as a likely source that does not divert yield from edible crops.
While evaluating the best growing conditions for commercial crops of Beauty Leaf, they are also investigating the biodiesel production process.
The first challenge is to produce 500 litres of 'beauty leaf seed' biodiesel. That's not as easy as it sounds. Currently, engineering students from QUT are helping to test oil extraction machinery to design an effective upscaled version.
Once viable quantities of oil are produced and converted to biodiesel through a four-stage transesterification process, it can be assessed for quality parameters against industrial standards.
The next stage is to determine automotive engine performance via a multi-cyclinder engine test bed established in the thermo-fluid laboratory on Rockhampton Campus.
Finally, the team will study engine components wear and operational issues that may arise in engines running with biodiesel.
CQUniversity's 'second generation biodiesel' effort is being led by Associate Professor Mohammad Rasul, Professor Masud Khan and Associate Professor Nanjappa Ashwath.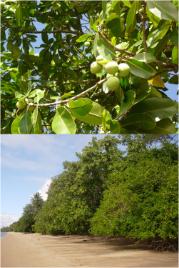 The beauty leaf tree shown growing wild
Click here to View/Download full-sized Image
"Establishment of second generation biodiesel will reduce the dependence on crude oil imports and therefore increase the stability of Australia's fuel market and improve balance of trade," Dr Rasul says.
"The range of ecological benefits includes: massive reduction of greenhouse gas emissions, reduction of sulphur dioxide which is one of the main causes of acid rain and reduction of other cancer causing emissions such as benzene.
"There will also be potential benefits for agricultural and rural development, including new jobs and income generation.
"Moreover, the move to biodiesel will create new industries and bring increased economic activity which would undoubtedly help meet the government development goals. It will also provide opportunities for carbon trading for the country."
Dr Rasul says the success of the current study is expected to be a milestone to establish biodiesel research at CQUniversity.
"This will create specialists in this area among the CQUniversity's researchers. It will also encourage new researchers, postgraduate and undergraduate students to take innovative projects in this area.
"The project aligns with CQUniversity's strategic research concentration and will showcase institutional practices that promote sustainability, productivity and safety of community through local renewable energy systems.
"This research will also enhance ecosystems, encourage environmental enquiry and industrial learning throughout the community. The success of this project will enable CQUniversity to demonstrate innovation in energy technology which will contribute to enhancing the competitiveness of Australian biodiesel industry."
Dr Ashwath noted that this research shows the potential of using degraded and mined land for biodiesel production.
"This also opens up opportunities for mining companies and mining contractors to invest in Beauty Leaf Tree plantations which could serve not only as pilot projects but also attract tax subsidies."
ENDS