CQUni's 'novel' role in Australia's international education efforts
Published on 17 Nov, 2011
Media Contact:
For Immediate Release
A book detailing the history of Australian international education initiatives will be launched at Parliament House next week, and it'll include references to CQUniversity's contribution.
It is probably the first book that comprehensively considers the development of Australian international education which had its roots in the Colombo Plan and grew to the country's largest service export industry over a 25 year period.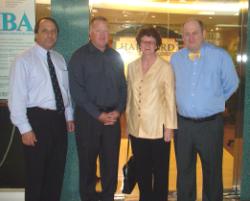 In younger days, professors Kevin Tickle, Graham Pegg, Debbie Clayton and Alan Knight during a visit to Hartford Institute, Singapore, in 2004 to discuss CQUniversity's transnational education partnership activities
Click here to View/Download full-sized Image
The launch is the culmination of a major project overseen by an editorial committee of international education professionals, managed by International Education Association of Australia, and sponsored by the Australian Government, and many other organisations, state governments and providers to mark 25 years of fee-paying international education in this country.
CQUniversity Emeritus Professor Debbie Clayton co-authored the chapter on Transnational education: Delivering quality Australian programs offshore with Associate Professor Chris Zigarus, from RMIT. The chapter overviews Australian transnational education since its inception in the 1980s, where small-scale and often short-lived overseas programs were first undertaken by Australian universities, to the present day where providers have developed a wide range of models of offshore teaching and where Australia is now one of the world's leading providers of transnational education.
"I was delighted when approached to contribute to such a historically significant publication, says Professor Clayton.
"I was involved in some early transnational education development initiatives in Asia, Oceania and the Middle East, whilst at CQUniversity.
"As a consultant I also work with providers and governments in the development and quality assurance of offshore education projects, as well as conducting national professional development initiatives for staff engaged in transnational education development. These experiences coupled with Chris Zigura's transnational education political and policy background, gave us a good understanding of the areas in which to develop the historical narrative."
CQUniversity's international engagement activity features in this new book, which has a focus on identifying the benefits of International education. Professor Ken Hawkins, Deputy Vice-Chancellor (International) and CEO CManagement Services, and CQUniversity and CManagement Services staff were particularly helpful in providing data, references, textural anecdotes, and photos to the editors for consideration.
When researching the transnational education chapter, Professor Clayton got really excited when it appeared that CQUniversity may have been the first university to establish a branch campus offshore (Suva, Fiji, open 1998 closing 2007). However, she later found that RMIT just pipped CQUniversity with a short-lived campus in Penang, Malaysia (open 1996 closing 1997).
The new will be a lively and interesting read, says Professor Clayton, and what a great resource to inform future international engagement activity.
The book Making a Difference : Australian International Education is edited by Dorothy Davis and Bruce Mackintosh, published by University of New South Wales Press, and will be officially launched by the Honourable Chris Evans at Parliament House on November 22. It will be available for purchase in December. See www.ieaa.org.au/anniversary for details.
ENDS