CQUni involved as partnership tests volcanic rock treatment of CSG water
Published on 29 Aug, 2012
Media Contact:
For Immediate Release
CQUniversity has helped establish a research partnership to test new Coal Seam Gas water treatment technology which uses volcanic rock filtration.
University researcher Ben Kele is the linchpin in the project through his company Midell Water. CQUniversity is also involved as an institution through a Memorandum of Understanding with other key players and will be arranging one or two postgraduate students to help.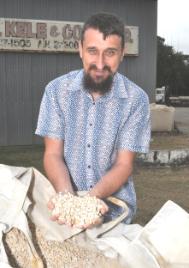 Ben Kele with his volcanic rocks
Click here to View/Download full-sized Image
Midell Water and Queensland Coal Seam Gas (CSG) producer and explorer WestSide Corporation Limited (ASX: WCL) have announced the establishment of the 'exciting' research partnership to test new CSG water treatment technology.
The companies have executed an agreement to build and operate the water treatment facility incorporating Midell Water's technology at the Meridian SeamGas CSG joint venture business operated by WestSide at Moura in Queensland's Bowen Basin.
The aim of the pilot plant is to treat the CSG water to a standard that will enable it to be reused beneficially. To this end one of Australia's leading consulting firms on the beneficial reuse of treated water, Arris Pty Ltd has joined the partnership.
Midell Water, Arris, and CQUniversity have signed a Memorandum of Understanding to work collaboratively on sustainable industry projects. Arris (http://www.arris.com.au/) has a strong track record of successfully engaging rural communities in the safe management and reuse of recycled water. LINK HERE for background on the MOU
The safe treatment and sustainable management of water co-produced by the CSG industry has become a key concern for all stakeholders. CSG water typically has high levels of salinity, sodicity and some metals such as boron, that require treatment before the water is fit for safe reuse.
As the CSG industry expands, conservative estimates indicate that at least 100 giga-litres of CSG water per year will need to be treated in Australia. The majority of this water will be produced in-land, adjacent to agricultural areas, where the soils and the waterways need protection from sodium salts.
Midell Water has extensively researched and developed a range of ion exchanging volcanic rock filter media blends that reduce sodium salts, selected heavy metals, and hydrocarbons associated with the petroleum and gas industries.
This research has been conducted with a variety of CSG producers working in the Surat and Bowen basins. Midell Water has also worked closely with CQUniversity's Institute for Resource Industries and Sustainability (IRIS).
All parties are committed to ensuring that the community is informed of the management practices, and that they can be assured that the water is being treated safely and reused sustainably.
The water treatment plant and the reuse schemes will comply with all state and federal regulatory safeguards.
The partners aim to demonstrate that this innovative approach to the treatment of CSG water is both economically superior to alternative methods currently employed by the industry and environmentally more responsible and sustainable
About Midell Water
Midell Water is a company that focuses on the decentralised water and wastewater market. This involves providing off the grid water solutions to developments that are not connected to centralised systems.
For more information go to: http://www.midellwater.com.au/
About WestSide
WestSide Corporation Limited (ASX code: WCL) is a publicly listed Brisbane-based Coal Seam Gas (CSG) producer with certified reserves and a diversified portfolio of exploration assets in Queensland.
For more information go to: http://www.westsidecorporation.com/
ENDS