New career paths for paramedics
Published on 13 Jun, 2013
Media Contact:
For Immediate Release
Paramedics working for state ambulance services or private industry now have an opportunity to advance their careers as safety specialists through a new specialist program at CQUniversity.
The Bachelor of Paramedic Science (EMS Occupational Health and Safety) will assist practicing paramedics to gain formal qualifications in the growing field of occupational health and safety.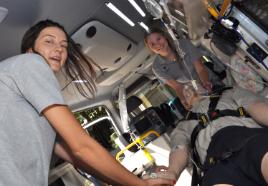 Paramedic science students Cassie Fraser and Skye Krobath check out the University's teaching ambulance.
Click here to View/Download full-sized Image "Occupational Health and Safety is a now a popular career move for many paramedics looking for career advancements both in state ambulance services and in private industry," explained CQUniversity's Paramedic Science Professor Brian Maguire.
"This new specialist program is a win-win for both students and employers. Students gain by having additional career opportunities, while employers benefit by having specialists who have been academically prepared for that specific safety role.
"Graduates from this program will be multi-capable. They will be able to respond to emergencies and also help to keep workers safe and healthy."
The traditional roles of paramedics are also changing. The practice of paramedic services is increasing in specific business areas such as mining, construction, leisure and recreation. In addition, organisers of activities that are regarded as high risk such as motorsports, film and TV productions, and major sporting events, increasingly hire paramedics for these events.
Given the increase in demand from industry, and often the remote nature of these projects, having the highest level of emergency patient care with an associated diverse occupational health and safety role is highly regarded.
The program is a three-year part-time program available via distance education. The program is open to suitably qualified paramedics who will be given advanced standing in the course for credit of prior learning.
For further information about the Bachelor of Paramedic Science (EMS Occupational Health and Safety) call 13CQUni 132786.
ENDS