Chapter and verse on seat belts, condoms, junk food and drugs
Published on 29 Oct, 2012
Media Contact: Prof Ebrall via 0400 987 191 or
For Immediate Release
Seat belts and condoms are a teenager's best friends, while junk food and drugs are the enemies, says Professor Phillip Ebrall, an expert in adolescent health based on the Mackay Campus of CQUniversity.
The latest edition of a significant reference text* for the chiropractic profession world-wide includes Prof Ebrall's chapter on Care of the Adolescent. While written primarily for the professional health worker, the advice is remarkably straight forward.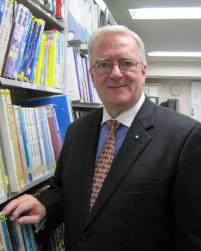 CQUni Professor of Chiropractic Phillip Ebrall is proud of his chapter in an international textbook
Click here to View/Download full-sized Image
"The teenage years are a time of significant growth and development," he says "and every effort should be made to ensure teenagers grow safely into young adults and take a fully functioning role in today's society".
Professor Ebrall says adolescence is a time of sexual experimentation, hence good sex education and the ready availability of condoms is a wise public health measure, as are simple road rules like always fastening the seatbelt and not getting into a car driven by somebody under the influence of alcohol or drugs.
"Teenagers need to be proactive for healthy development, and care must be taken to establish responsible eating patterns (more natural foods and less man-made foods, fast food, salt and sweeteners) and active lifestyles that include team sports.
"A final important point is that teenagers should not experience pain as they grow and develop, therefore pain and discomfort are good indicators for a professional check-up," says Prof Ebrall.
The book chapter is largely about providing professionals with the parameters for normal growth and development and includes comprehensive check-lists for things that can go wrong, such as injuries and delayed development.

LINk to the book cover
Click here to View/Download full-sized Image
"It is important for parents to ensure their teenager has a professional health worker to consult in confidence, and the establishment of this relationship is another factor in successful development towards adulthood," Prof Ebrall says.
* The second edition (revised) of the international text Pediatric Chiropractic is now printed and is starting its release. It is acknowledged as the definitive pediatric text for the chiropractic profession world-wide and is used in most if not all chiropractic educational institutions.
ENDS