CQUni welcomes $73.8m boost for dual sector and engineering
Published on 12 Dec, 2011
Media Contact:
For Immediate Release
CQUniversity has received the lion's share of funding in the Commonwealth Government's latest higher education investment round, putting it on the path to becoming Queensland's first dual-sector institution and an engineering powerhouse...
The $73.8 million CQUniversity slice, part of a total pool of $377m from the Structural Adjustment Fund (SAF) and Education Investment Fund (EIF) for 2011, will be spent on readying the university for its proposed merger with Central Queensland Institute of TAFE and further strengthening its already-solid engineering offering.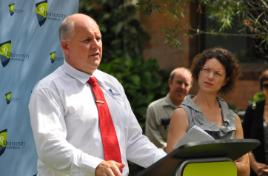 Professor Bowman announces spending plans to support major dual sector and engineering initiatives
Click here to View/Download full-sized Image
LINK also for 'Revolution coming for post-school education'
"Today's announcement demonstrates just how crucial CQUniversity is to the national higher education sector, and to the communities of the booming Central Queensland region," CQUniversity Vice-Chancellor and President Professor Scott Bowman said.
"These funds represent one fifth of the overall SAF/EIF funding pool for 2011, which is a massive vote of confidence from the Government in the university, and its plans for dual-sector status and the development of a world-class engineering school.
"Not only will this allow us to deliver critical skills to the region's workforce, but it will also create countless local construction jobs thanks to a huge ramp-up in building activity.
"I want to thank the Commonwealth Government for its foresight in recognising the immense contribution a dual-sector university, offering world-class engineering programs, will make to a region like Central Queensland."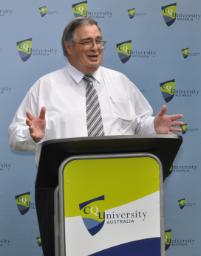 CQIT Director Gary Kinnon talks of immense benefits for the region
Click here to View/Download full-sized Image
Projects to be funded include $16.6m towards a state-of-the-art new engineering precinct at CQUniversity Mackay, $14m towards an industry-leading, public-access allied health clinic at CQUniversity Rockhampton, and a $12.5m makeover for Mackay TAFE should a merger with CQIT proceed.
"These projects will revolutionise the learning experience for our engineering and allied health students, by equipping them with cutting-edge, custom-built facilities in which to learn their craft," Professor Bowman said.
Other funds will be channelled into "building" an integrated dual-sector university, including a revamp of classroom facilities, IT systems, administration systems and learning pathways across university and TAFE.
"In bringing together two strong institutions, staffed by great people, we can create more flexible pathways between university and vocational programs, and really offer the people of Central Queensland - and beyond - the best of both worlds," Professor Bowman added.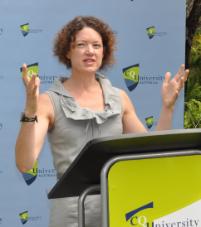 MP Kirsten Livermore describes the scale of the project
Click here to View/Download full-sized Image
Federal Member for Capricornia, Kirsten Livermore MP said the announcement was welcome news for CQUniversity and the Central Queensland region.
"The Commonwealth Government is committed to working with CQUniversity and the Queensland Government to ensure the University is well positioned to meet future growth and to continue to innovate and consider bold new ideas," Ms Livermore said
"Central Queensland is one of Australia's most productive and vital economic regions and this project will better service the diverse and growing needs of the region."
CQIT Institute Director Gary Kinnon also welcomed the announcement, underlining the successful SAF/EIF funding bid as the first stage of satisfying the State Government's requirements for a successful dual-sector merger.
"Following this announcement, the Queensland Government will continue to work with CQUniversity to undertake further due diligence and negotiate how the merged institution could operate," Mr Kinnon said.
ENDS