Students hone vocal and performance skills with theatre star
Published on 24 May, 2012
Media Contact:
Embargoed Until:
Workshopping with industry professional Peter Cousens gave Mackay's Central Queensland Conservatorium of Music (CQCM) students a real insight into the professional world of performing arts.
Peter has recently been appointed Artistic Ambassador for the Bachelor of Theatre program, which allows him to enhance the profile of CQCM as a reputable player within the performing arts industry and the wider community.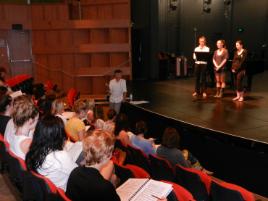 CQ Conservatorium of Music students spent three days workshopping with Artistic Ambassador Peter Cousens.
Click here to View/Download full-sized ImagePeter said the Bachelor of Theatre students gained confidence and skills during three days of vocal and performance workshops.
"I've been working with students to emotionally and psychologically connect with the material they are given," he said.
Peter said students at CQCM are fortunate in that they are exposed to a high standard of teaching without the pressures and competition faced by those in major performing arts schools.
"Mackay is a long way from the major cities but I think the advantage of studying at Central Queensland Conservatorium of Music is that it offers great security for students to explore their talents in a safe environment,"
"I see my role more as raising the profile of this school (CQCM) in the larger cities and marketing it as an alternative to the major performing arts schools."
"We have had a lot of graduates from Mackay go on to become successful performers so it's just a matter of building the Conservatorium of Music's reputation on a wider scale."
The renowned performer was director of last year's Mackay production, How to Succeed in Business Without Really Trying.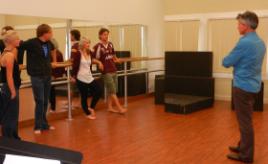 Drama students Milly Hobbs, Glen Marshall, Jess Andrews and Ash Ellul talk about space and status on stage with Peter Cousens.
Click here to View/Download full-sized ImageRecognised among Australia's major music theatre stars, Peter is the only Australian to play The Phantom on London's West End and his four solo albums testify to a superb voice of broad range, colour and musicality.
He has starred alongside Russell Crowe in Blood Brothers and with the late Richard Harris in Camelot, and has had an extensive career playing major roles in musicals throughout Australia and New Zealand.
ENDS