Researchers out of the lab and ready to see big picture
Published on 26 Apr, 2012
Media Contact:
For Immediate Release
Australia's most expansive Early Career Research program has begun, drawing together promising scientists and highly-credentialed mentors from about a dozen different campuses.
Hosted by CQUniversity in association with the freshly-established Regional Universities Network (RUN), this is the first time a network of universities has collaborated on an ECR Program on such a grand scale.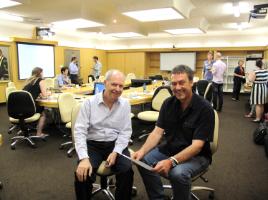 Professor Alan Pettigrew (left) and Professor Drew Dawson at the first of the Early Career Researcher sessions
Click here to View/Download full-sized Image
Workshops for up to 25 participants are being held in Rockhampton, Mackay, Bundaberg, Gladstone and Noosa, and five of the RUN partner institutions are represented.
This program is being led by Professor Drew Dawson, the inaugural Engaged Research Chair at CQUniversity, and Director of the Appleton Institute.
The keynote speaker for module one, held in Rockhampton on April 20, was Professor Alan Pettigrew, inaugural CEO of NHMRC (National Health and Medical Research Council), former VC of the University of New England, and facilitator of the LH Martin Executive Leadership and Management in Research Program.
Other module one speakers included Professor Scott Bowman, Vice-Chancellor, CQUniversity; Professor Chad Hewitt, Pro Vice-Chancellor (Research) CQUniversity; and Dr Caroline Perkins, Executive Director, Regional Universities Network.
Professor Dawson said this is the first time an ECR program of this type and magnitude has been offered by a regional university in Australia across so many campuses such long distances apart.
"This is the first significant collaboration for RUN and the most ambitious project of its type for regional universities," Professor Dawson said.
Participants represent a range of fields including coral regeneration, health care, skilled migration, population health, cognitive psychology, online learning, microbiology, plant ecology, intercultural and international education, and sleep loss and fatigue.
ENDS