One of Australia's foremost science leaders visits Rockhampton Campus
Published on 27 Jul, 2012
Media Contact:
For Immediate Release
One of Australia's foremost science leaders has visited CQUniversity Rockhampton to help researchers, their supervisors and research sponsors focus on leadership...
Professor Mary O'Kane, the NSW Government Chief Scientist and Engineer, was keynote speaker for the Leadership in Research Colloquium on Friday, July 27. The event was also videoconferenced to sites in Bundaberg, Emerald, Gladstone, the Gold Coast, Melbourne, Noosa and Sydney.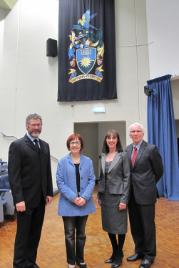 Professor Mary O'Kane (in blue) with CQUniversity representatives Professor Chad Hewitt, Professor Sonj Hall and Professor Gregory Gass
Click here to View/Download full-sized Image
Professor O'Kane's visit was arranged by the Health Collaborative Research Network (CRN), headquartered at CQUniversity.
In addition to her NSW role, Professor O'Kane is Chair of the Australian Centre for Renewable Energy, Chair of the Development Gateway and Development Gateway International, Chair of the CRC for Spatial Information, and a Director of PSMA Ltd, Business Events Sydney and the Australian Business Foundation. Professor O'Kane is a former member of the Australian Research Council (ARC), the Co-operative Research Centres (CRC) Committee, the board of FH Faulding & Co Ltd and the board of the CSIRO. Professor O'Kane is Vice President of the Academy of Technological Sciences and Engineering and a Fellow of Engineers Australia.
During her academic career, Professor O'Kane was Vice-Chancellor and President of the University of Adelaide, Deputy Vice-Chancellor (Research) at the University of Adelaide and Dean, Faculty of Information Sciences and Engineering at the University of Canberra. Professor O'Kane holds an Honorary Doctorate from CQUniversity.
The Health CRN was excited to sponsor this visit by Professor O'Kane. The visit is one of a number of CRN initiatives to raise research performance and research capacity at CQUniversity.
ENDS