Tourism program well placed to meet changing environment
Published on 07 Dec, 2012
Media Contact: Steve Noakes 0418 774 295 or
For Immediate Release
CQUniversity is well equipped to handle the global and national drivers impacting on tourism and hospitality education in Australia, says Noosa Campus-based tourism academic, Steve Noakes.
He was commenting after attending a symposium on the future of tourism and hospitality education in Australia conducted by the Council of Australasian University Tourism and Hospitality Educators (CAUTHE), held at the University of Queensland in Brisbane recently.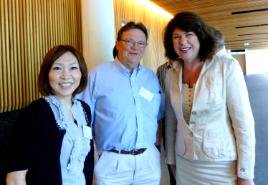 Nozomi Saito (Uni of Queensland), Steve Noakes (CQUniversity) and Prof Pauline Sheldon (Uni of Hawaii) at the recent symposium
Click here to View/Download full-sized Image
Key contributors to the meeting included leading international education authorities Professor Emerita Pauline Sheldon from the University of Hawaii and Associate Professor Mark Freeman from the University of Sydney.
"Our new tourism courses at CQUniversity balance delivery of both theoretical and applied knowledge. We continuously adapt the curriculum to achieve the balance between skills and knowledge development for CQUni students," Mr Noakes says.
He said that while there is a large amount of homogeneity across tourism, hospitality and events programs at universities in Australia, the international engagement activities of Tourism at CQUniversity was carving a unique position in a highly competitive tertiary education sector.
CQUniversity is actively engaged in educational networks such as CAUTHE* and the International Centre for Excellence in Tourism and Hospitality, as well as government and industry organisations such as the United Nations World Tourism Organisation, the Global Partnership for Sustainable Tourism, the International Ecotourism Society, Sustainable Travel International and the IUCN/World Commission on Protected Areas tourism working group.
The new Bachelor of Tourism degree at CQUniversity is offered 'face-to-face' at the Noosa Campus and via distance education throughout Australia and the world.
Details on the CQUni Tourism degree program are available via THIS LINK
* The Council for Australasian University Tourism and Hospitality Education (CAUTHE) began in the late 1980s and was formally established in Sydney on 19 June 1992. CAUTHE represents the universities in Australia and New Zealand that teach and research hospitality and tourism. http://www.cauthe.org/
ENDS