Beefing up production, paddock by paddock
Published on 02 May, 2012
Media Contact:
Embargoed Until:
Advances in Australia's beef industry have been driven by extension of knowledge.
Now there's a fresh push with a focus on technology to help refine production performance, working on scopes as fine-tuned as the individual farm, individual paddock and sometimes 'sub-paddock' and individual animal.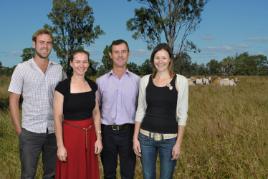 Some of CQUni's beef-related researchers include Daniel Gregg (rural economics); Dr Sandrine Makiela (pasture soil quality); Dr Dave Swain (precision livestock) and Dr Kym Patison (cattle behaviour). The team also covers embryology and information technology systems
Click here to View/Download full-sized Image
Researchers at CQUniversity are looking into the potential economic benefits of a range of emerging information technology systems including GPS, pasture mapping using remote sensing, walk-over weighing, automated drafting and electronic pregnancy testing.
The research team are also exploring the development of next generation technology including an automated calving alert system and virtual fencing.
The CQUniversity researchers aim to identify information and management systems that meet the unique needs of an individual enterprise. There are more advantages in tailoring the delivery and analysis of scientific technology at the individual enterprise and animal level than what can currently be achieved using generic whole-of-industry approaches.
The research into precision livestock management aims to identify the unique set of conditions that will enable each individual enterprise to remain viable and provide opportunities to maximize productivity.
Dr Dave Swain has been working within the North Australian Beef Research Committee to determine what precision livestock management research capability is needed. He says the goal is to provide research that enables local optimisation within each production system.
"It's evolution in practice, we aim to provide tools that support a producer to identify a system that works for them," he said.
"The goal is to refine management decisions by looking at data at the paddock level and sometimes even sub-paddock level to provide more regular and complete information on individual cow performance."
The CQUniversity Precision Livestock Management team includes expertise in animal behaviour, rural economics, embryology, information technology systems, soil and pasture biology. The goal is to bring the different technologies and tools together to provide a systems overview that is grounded by economic evaluation.
Dr Swain and some of his CQUniversity colleagues and industry associates will present a seminar on 'How Information and Technology Systems will enhance your business', from 9.30am-11am on Wednesday May 9, as part of Beef Australia in Rockhampton. More details are available via http://www.beefaustralia.com.au/
"A number of short talks will demonstrate how emerging information and management systems can enhance strategic planning and also improve the daily operational management of beef production systems," he said.
ENDS