From iPad to 'iPaddock' - new scholarship aimed at boosting cattle birth rates
Published on 02 Jul, 2013
Media Contact: For interview contact Dave Swain via 0448 811 936 or via
For Immediate Release
CQUniversity is hoping to combine emerging wireless sensor network technology with animal behaviour research to boost the reproductive efficiency of northern Australia's beef cattle production systems...
Project leader Dr Dave Swain says there's a PhD student opportunity in this field thanks to a new scholarship open for applications, underpinned by an emerging partnership between Telstra and CQUniversity.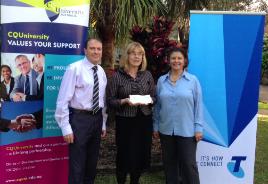 Professor Hilary Winchester (centre) with Telstra representatives Lydia van Niekerk and John Llorente, discussing support for research addressing regional issues
Click here to View/Download full-sized Image
The Telstra-funded PhD student will work with Dr Swain to extend work that has been done to explore how remote automated measures of social behaviour can be used as indicators of reproductive performance.
Anyone interested in applying for the PhD scholarship can contact Dr Swain via d.swain@cqu.edu.au .
"The challenge for cattle producers is to be able to measure data that can be used improve cattle reproductive performance," Dr Swain says.
"This PhD project will address a significant industry problem."
CQUniversity spokesperson Suzi Blair says Telstra has selected the University as a partner because it understands the enormous impact of research focused on specific regional problems, challenges and opportunities.
"Telstra is being visionary in backing our region through the provision of this scholarship, as research is a key to our future prosperity in CQ," Ms Blair said.
"The establishment of the Telstra Research Scholarship represents a significant investment in the potential of the CQ region. It is great to see a major corporate backing our region in this way and providing financial support for the pursuit of new knowledge."
Telstra representatives Lydia van Niekerk and John Llorente recently met with CQUniversity Deputy Vice-Chancellor Professor Hilary Winchester to hand over the first of three payments for the Telstra Research Scholarship.
Professor Winchester expressed the University's appreciation of Telstra's partnership and ongoing support and interest in CQUniversity.
"CQUniversity greatly values the deepening of our mutual relationship for the benefit of our region," Professor Winchester said.

Prof Hilary Winchester with Telstra Area Sales Manager John Llorente
Click here to View/Download full-sized Image
ENDS