Future scientists hone their skills in school camp
Published on 28 Jun, 2012
Media Contact:
For Immediate Release
Sports performance, microscopic soil animals, engineering experiments and 'Sim Man' were just some of the activities on offer for budding young Central Queensland scientists at this year's combined Science Experience and Science Camp program these school holidays.
The combined program was run from Tuesday to Friday this week and hosted year 9 to 12 students from Mackay, Rockhampton and Bundaberg together at CQUniversity Rockhampton for the first time.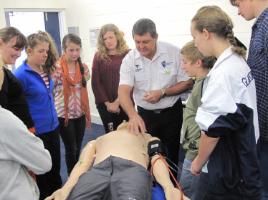 Paramedic Science lecturer Daryl Holley shows Science Camp participants 'Sim Man'
Click here to View/Download full-sized Image
The program gave students the opportunity to mentor their younger peers and explore their passion for science with other students from the Central Queensland region.
"Science Experience and Science Camp activities allow school age students to get a taste of university life and benefit from the knowledge of CQUniversity's top scientists through participating in science, engineering and health related activities" said Event Manager Lauren Reck.
One of the highlights included practicing resusciation and administering medication to "Sim Man', CQUniveristy's state-of-the-art practice dummy, which blinks, breaths, talks, and even vomits.
"Giving these kids some hands on time is the most useful way to get them interested, or fuel their interest, in science" said Program Coordinator for Paramedic Science Anthony Weber.
"It's good having them come from all over Central Queensland, because this also helps us reach out to the kids that mightn't be able to relocate to Rockhampton - the distance education students.
Another highlight was Wednesday afternoon's sonography workshop, which saw lecturer Maria Maroney show students footage of her jugular artery in action.
Students learnt how images can be produced of bone, muscle and organs and how sonographers are able to make medical diagnoses using the technology.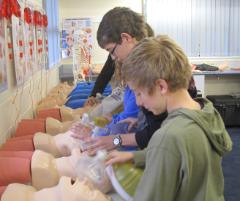 High school students practice their resuscitation skills at this week's Science Camp
Click here to View/Download full-sized Image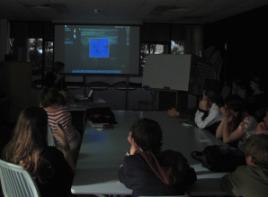 Sonography lecturer Maria Maloney gives students a real-time look inside the human body
Click here to View/Download full-sized Image
ENDS