Industry, government and educators share views on workforce needs
Published on 07 Nov, 2012
Media Contact: Susan Kinnear 0407 587 792 or Nik Babovic 0488 339 940
For Immediate Release
Representatives from the industry, business, government and education sectors shared views on workforce needs this week during the Inaugural CQUniversity Dual Sector Research Symposium and associated workshop, held on Rockhampton Campus.
The event focused on anticipated workforce shortages and key growth areas, and on understanding the role and contribution CQUniversity can make to regional communities as it starts its journey as a 'dual-sector' institution, providing vocational education and training courses as well as degrees.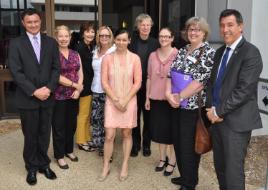 Symposium speakers and organisers L-R Rod Camm, Janet Dibb-Leigh, Associate Professor Bobby Harreveld, Dr Ros Cameron, Dr Susan Kinnear, Dr Gavin Moodie, Associate Professor Kristy Richardson, Sue Fergusson and Nik Babovic
Click here to View/Download full-sized Image
Seminar speakers included Deputy Vice-Chancellor (Industry and Vocational Education and Training) Nik Babovic, RMIT Principal Policy Adviser Gavin Moodie, UniSA Strategic Research Partnerships Senior Adviser Janet Dibb-Leigh, National Centre for Vocational Education Research's GM Research Sue Fergusson, and Skills Queensland CEO Rod Camm.
Symposium co-organiser Dr Susan Kinnear says participants were keen to understand the skilling and training issues of business and industry "so we can build research projects to address them".
"We also discussed what research might be worthy to be undertaken to find how to make tertiary education as accessible as possible, how we can measure costs and benefits to small business in training apprentices, the best mentoring in the workforce, and best practice for human resource management.
"We've been scoping research that will help us make the most of our regional workforces, including roles for women, young adults, Indigenous people and skilled migrants.
"And we're looking into reliable ways to assess people's prior learning and to arrange accreditation for on-the-job training done by employers."
CQUniversity is embedding a research agenda right at the start of its journey as a 'dual-sector' institution. The University is hoping for final approval soon on its proposed merger with CQ Institute of TAFE, and it is also progressing its own VET programs as it transitions into a dual-sector institution from 2013.
Over the next three to five years, in alignment with progress as a dual-sector institution, the aims are to develop research informing the development of VET at the national and international levels, to drive and inform the development of CQUniversity as the leading dual-sector institution, and to encourage and celebrate the collaborative CQUni-CQIT response to industry needs.
ENDS