Home of Hinkler now a hub for commercial pilot training
Published on 06 Sep, 2012
Media Contact: For interview contact Professor Andy Bridges 0409 589 866 or
For Immediate Release
Bundaberg will become a hub for commercial pilot flight training with a pioneering intake of students expected in February 2013.
CQUniversity Australia has teamed with the Australian Flight Academy (AFA) to announce the start of commercial pilot training as an integral part of its established aviation undergraduate programs based at Bundaberg Campus.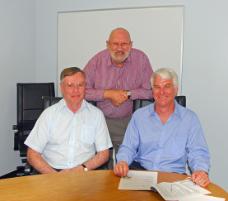 CQUniversity Bundaberg Head of Campus Professor Phillip Clift (centre) with Captain David Whyte (left) and Captain Mac af Uhr of the Australian Flight Academy, which will provide commercial pilot training in conjunction with CQUniversity's aviation programs.
Click here to View/Download full-sized Image
Professional training to Commercial Pilot License with Multi-Engine Command Instrument Rating standard (approximately 200 hours flight time) will be combined with CQUniversity's Diploma of Aviation Theory in a 52-week course. This is the first university aviation course of its kind with flight training in regional Queensland.
This new development is in addition to recreational flight training also offered by other operators in conjunction with CQUniversity's two-year Associate Degree of Aviation and three-year Bachelor of Aviation Technology programs.
AFA is based at the Bundaberg Regional Airport, adjacent to CQUniversity Bundaberg.
Bundaberg enjoys a moderate climate with year-round good flying weather, as well as an uncongested airport and uncrowded airspace.
The city was the home of pioneering aviator Bert Hinkler and the Hinkler House Memorial Museum has been established in the city.
LINK for details on the Diploma of Aviation Theory
ENDS