It's no accident that students have been converging on Bundaberg
Published on 11 Apr, 2013
Media Contact:
For Immediate Release
It's no accident that students have been converging on CQUniversity Bundaberg Campus. They have been attracted by the first residential school based at a new Forensic Investigation Crash Lab CQUniversity has developed there...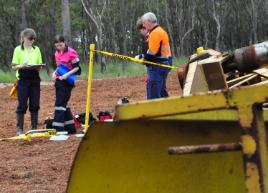 LINK for a larger image of students investigating a crane accident
Click here to View/Download full-sized Image
CQUniversity offers a Bachelor of Accident Forensics via its Rockhampton and Bundaberg campuses, as well as through distance education.
The University also offers a Master of Accident Investigation (Specialisation) by distance education with specialisations in aviation, road, rail and industrial accident investigation. The first Masters students will come to the lab for their first residential school in May.


Students, staff and volunteers involved in the residential school at CQUniversity Bundaberg
Click here to View/Download full-sized Image
The 18 students attending this undergraduate residential school were able to apply their theoretical knowledge to realistic investigations of a series of accidents involving a car and a jeep, a crane, and some industrial machinery. They were supported by 10 first-year Accident Forensics students from Gladstone, Bundaberg and Brisbane who had volunteered to help by playing the role of crash 'witnesses' and 'media', and by keeping things running smoothly.
Engineering consultancy Clyde Babcock-Hitachi supported the residential school by providing a senior safety manager - David Skegg - to help facilitate the sessions, by sponsoring a dinner, and by donating a perpetual shield for the 'CBH Best Performing Investigation Team Award'.
The Accident Forensics teaching team has also negotiated to secure a second-hand airliner and a railway locomotive which should both feature in future residential schools at the lab.
There are plans in future to transfer wreckage from real accidents into the crash lab so that students can experience the reality of accident scenes in a controlled environment.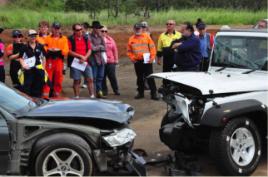 This scenario featured a Jeep donated by the Australasian New Car Assessment Program. ANCAP has also pledged delivery of a 2013 Subaru Forester for the campus facility
Click here to View/Download full-sized Image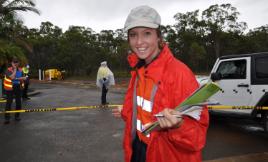 Second-year student Alice Leeson, from Rockhampton, prepares to lead an investigation during the Bundaberg residential school
Click here to View/Download full-sized Image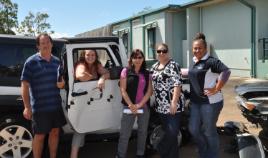 First-year student volunteers (left to right) - Wayne Bisset, Donna White, Danika Royle, Simone Finnerty (who all travelled to from Brisbane to volunteer) and Janey Scarth-Johnson (who travelled from Gladstone).
Click here to View/Download full-sized Image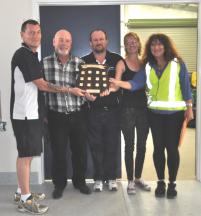 Charles Gorton from CBH (centre) and lecturer Yvonne Toft (right) present the perpetual shield to L-R Duncan Bewick, Larry Cameron and Stacey Barry
Click here to View/Download full-sized Image
ENDS