Robust demand for international tourism highlights job opportunities
Published on 14 Nov, 2012
Media Contact: Scott Richardson 0420 766 473 or Steve Noakes 0418 774 295
For Immediate Release
Tourism remains big business globally and offers a wide range of job prospects, say leading tourism academics at CQUniversity.
By the end of 2012, one seventh of the world's population will have crossed international borders as tourists in a single year.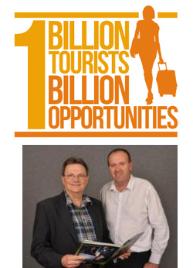 LINK for a larger image of Steve Noakes and Dr Scott Richardson
Click here to View/Download full-sized Image
"That's a far cry from the 25 million international tourists discovering the world at the start of the modern era of international travel in the early 1950s," said Steve Noakes, Senior Tourism Lecturer at CQUniversity.
"Back in those days, most people on the planet would rarely travel beyond a 100km radius of their home base. In just one generation, that's a major shift in the mobility patterns of people throughout the world," Mr Noakes said.
Another CQUniversity Senior Tourism Lecturer, Dr Scott Richardson says that, with international tourist arrivals throughout the world expected to pass one billion for the first time in December 2012, this will open up thousands of new jobs in the industry all over the globe.
"While those one billion international visitors will spend in the order of US$1.2 trillion, an additional four billion more will take part in domestic trips within their national borders. The total expenditure by tourists will contribute to more jobs, higher income possibilities and further opportunities for development.
"At the same time, that growth requires the industry to act responsibly and in a sustainable fashion to meet the needs of today's tourists and host communities while creating the right conditions for economic, environmental and social sustainability," Dr Richardson said.
CQUniversity is an affiliate member of the United Nations World Tourism Organisation (UNWTO) which reports that international tourist arrivals reached 990 million in 2011. At current growth rates, the record of one billion tourists will be reached next month. UNWTO states that tourism is directly responsible for 5% (9% indirect) of global GDP, accounts for 30% of the world's trade in services and employs one out of every 12 people worldwide.
Mr Noakes and Dr Richardson agree that even though global economic prospects are dim in many parts of the world and unemployment is a real issue in many economies, tourism is a sector that can give a much-needed boost to economies.
The Bachelor of Tourism is available via CQUniversity Noosa Campus or through distance education. It's designed to offer students the knowledge and skills to enter the expanding tourism industry. CQUniversity can provide students with cutting edge knowledge through its membership of the Washington DC based Global Sustainable Tourism Council (GSTC) and the United Nations World Tourism Organisation (UNWTO). A Bachelor of Tourism graduate may enter a variety of careers in the tourism industry - whether in accommodation, tourist attractions, transport, hospitality or events. LINK HERE for details
ENDS