Grizzly bear researcher rolls between Rockies and Rocky
Published on 05 Apr, 2013
Media Contact: Via
For Immediate Release
After nearly a decade of working with wild grizzly bears in North America Sarah Elmeligi decided that to take her research to the next level she would need to visit Rockhampton. No kidding, she's come to Rocky from the Rockies.
It all becomes clearer when she explains that grizzly bears hibernate between November and March - preventing field studies - and that her main supervisor, Owen Nevin, and a committee member, Dave Swain, are based at CQUniversity.
LINK HERE for audio from Sarah's recent interview with ABC Radio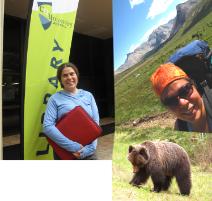 Sarah Elmeligi pictured on campus in Rockhampton and also in the Skoki Valley of Banff National Park. Inset: Sarah's photo of an orphaned male grizzly
Click here to View/Download full-sized ImageSarah plans to retreat to Rockhampton each hibernation season to analyse her data and write her thesis. She'll spend April to October in Canada's Rocky Mountain National Parks (Banff, Jasper, Kootenay, and Yoho) collecting data and studying the bears during their active season.
The overall aim is to find ways to balance the national park visitor experience for hikers with the bear's habitat requirements. Using GPS tracking data from both bears and hikers and remote cameras on hiking trails, along with hiker surveys, Sarah will create a series of management recommendations that are good for bears and good for people.
Luckily for Sarah, Parks Canada already attaches GPS collars to bears for other studies, using culvert traps and tranquilisers to achieve what would otherwise be an impossible task.
"Bear management is effectively people management. We seek to maximise visitor satisfaction and access to hiking trails and minimise the potential negative impact on grizzly habitat use," Sarah says. "With the GPS collars, the location of each bear is emailed to Parks Canada every two hours, providing a wealth of data."
Two decades ago, Sarah focused her bachelor degree studies on animal behaviour and ecology before progressing her Masters thesis on 'Bear-viewing Tourism' just under 10 years ago.
Throughout her Masters, she also worked as a community outreach coordinator alongside First Nations rangers and British Columbia Parks staff to implement a grizzly bear monitoring program. After brainstorming with stakeholders she came up with the visitor centre theme - 'Bear-ly Inhabitated Culturally Rich'. She led the design, creation and construction of the visitor centre including the development of educational signage and brochures for several First Nations communities on the northwest coast.
Sarah then spent several years working for environmental non-profit organisations in western Canada aiming to influence land-use planning and decision making to be more conservation focused. She worked as a conservation project manager with the Yellowstone to Yukon Conservation Initiative (Y2Y), which bridges the USA and Canada. While focused on the Cabinet-Purcell Mountain Corridor stretching from Montana to British Columbia, her role included developing an Avian Conservation Strategy across the whole Y2Y landscape.
Most recently, Sarah has worked as a senior conservation planner with the Southern Alberta Chapter of the Canadian Parks and Wilderness Society. Her achievements include working with other environmental organisations to successfully have the grizzly bear listed as threatened under the Alberta Wildlife Act.



ENDS