New approach to 'progress' in Noosa
Published on 08 Jan, 2013
Media Contact: Sue Davis 0418 763 428 OR Michael Tarrant 0411 800 549
For Immediate Release
A new model for sustainability education was recently trialled as students from the University of Georgia, Athens (UGA) in the United States visited Noosa and interacted with actors from Noosa Arts Theatre as well as CQUniversity staff and Noosa Biosphere representatives.
This is the seventh group of students from UGA who have visited Noosa over the past two years and the students rate their Noosa experience as the highlight of their Australian and New Zealand experience.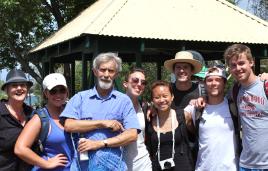 In the Noosa Woods are Sue Davis (left), John Woodlock (centre) and Tracy, Sarah, Yuri, Josh and Jackson from UGA. Prof Michael Tarrant is at rear in the broad-brimmed hat
Click here to View/Download full-sized Image
The key difference this time was trialling some variations to past teaching components with fairly traditional models of lecture style delivery. This time, students met with different 'characters' in context as they hiked from Noosa Woods, down Hasting St and through the National Park.
CQUniversity lecturer and Biosphere Chair Dr Sue Davis has been working on the model with Professor Michael Tarrant from UGA and explained the reasoning for this trial.
"I have a background in drama and applied theatre and realised that it could be quite powerful for students to hear different perspectives about the environment and development from people in context rather than in a classroom. So I asked Noosa Arts if they could suggest some actors who were also Noosa residents to take on roles and interact with the students. The students could experience the environment and then discuss the history and issues in a much more real and interactive way," Dr Davis said.
Professor Michael Tarrant further developed the students' connection to sustainable development issues through creating a simulation role-play that followed.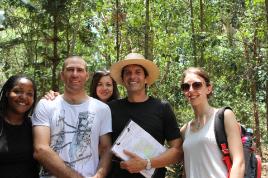 In Noosa National Park are University of Georgia visitors Valarae, Chelsea, Prof Michael Tarrant and Sarah with Noosa's Ben McMullen second left
Click here to View/Download full-sized Image
"Students had to take on a role as a councillor, stakeholder group member, tourist and so on and to debate a fictional proposal to build a marina development. Through meeting the characters the day before and doing the hike, our students were able to fully engage with the ideas and issues," Prof Tarrant said.
"They really appreciated interacting with local people and hearing the different critical perspectives about progress from Noosa residents."
Students began in Noosa Woods by encountering a 'fisherman' otherwise known as local thespian John Woodlock, before meeting businessman Tim Murfin in Hasting St and surfing dude Ben McMullen in Noosa National Park National Park.
"We are really keen to develop these different learning models and programs," affirms Sue. "This trial will inform a new range of programs we can share with local, national and international groups."
ENDS